Time and date
CONSTRUCTION DIRECTORY
BeA Fastenings Systems Limited

Contact Details
Address
Behrens House
Plaxton Bridge Road
Woodmansey
East Yorkshire
HU17 0RT
England UK
About BeA Fastenings Systems Limited
BeA Fastening Systems Ltd
BeA Fastening Systems are one of the most rapidly expanding manufacturers of hand-held power tools in the UK, and one of Europe's leading manufacturers & suppliers of a unique range of high quality fastening systems to all industrial markets. With over 90 years experience, BeA provide bespoke fastening solutions to suit the individual needs of their customers, supplying the complete package of fasteners, power tools and technical support.
Whoever you are, whatever your needs BeA has the solution for you!
BeA Fastening Systems offer a diverse range of products; whether you are looking for a small upholstery tacker, a gas nail gun or a bespoke automated system BeA have the solution for you. BeA also have a countrywide network of Mobile Service Engineers at hand offering planned maintenance programmes and emergency call-out facilities. This service is unique to BeA in terms of the scope and breadth of its coverage.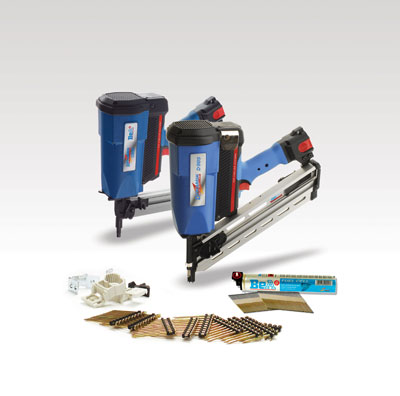 Experience the Dynamik Force
BeA's Dynamik range of of gas fuelled tools, including the Dynamik CN60 used for fixing into concrete and steel and the D90S timber fixing gas nailer, are taking the UK by storm.
The lightweight CN60 weighs in at only 3.7kg and can fire pins of 15mm to 60mm in length at a speedy two to three shots per second, making it one of the fastest shots around.
The D90S is BeA's new generation of nailing technology; with extra maneuverability and a 10% increase in power due to its unique cylinder and exhaust design, it really has the power to drive itself home.
Environmentally sound fuel cells
All BeA fuel cells are kind to the environment, boasting that they are totally 'Green Point' CFC free. The cells use a non-polluting fuel propellant and can be recycled or disposed of in normal waste collection and have an unlimited shelf life, ensuring effective operation over long periods at optimum output. Just simply reload another.
Covering every angle
From staples, pins, brads, T-nails and corrugated fasteners; to coil nails, strip nails, roofing nails and shelf support studs; expanding inserts, cable clips, deco-nails, hog rings, vertex spring clips and RapidClips. BeA offer one of the largest ranges of bespoke and standard fixings and fasteners in today's market place, to suit every type of industry.

Compatibility Counts
BeA's vast array of fixing, fastening and fuel cell solutions are not only compatible with their own product range but also with other comparable tools on the market.
Price Checked
If you want to cut consumable costs dramatically, but don't want to compromise on quality, BeA have undoubtedly got the answer. If you want to extend your margins and increase profit – talk to BeA first. BeA is certain they can beat any competitor's price.
For further information please contact BeA Fastening Systems Limited +44 1482 889927
BeA Fastenings Systems Limited Serves The Following Areas
Find BeA Fastenings Systems Limited in