Time and date
CONSTRUCTION DIRECTORY
Capital Roofing Co Ltd

Contact Details
Address
193 Westcombe Hill
London
SE3 7BB
England UK
About Capital Roofing Co Ltd
Capital Roofing is a family business, which has developed over the years into a successful Roofing Contractor, operating in the South East of England.
Capital Roofing started as a flat roofing company, but over the years has expanded its areas of expertise into slating, tiling and specialist lead work and has allied its skill in these areas to a high level of customer service.
View our Products here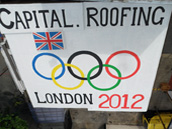 In an industry that has not always enjoyed the best of reputations, the company is regarded as an outstanding example of true professionalism in the quality of its work and in the way it conducts its normal business practices. This is borne out by the number of awards it has won and the confidence its clients have in their dealings with Capital. This has enabled the company to achieve a steady growth, whilst at the same time generating a healthy and exciting annual increase in turnover.
Seamless
Capital Roofing's seamless roofing division, carry out various types of Liquid Waterproofing Systems for rapid, cost effective seamless protection of roof structures without the application of heat. When used in refurbishment, Liquid Roof Waterproofing Systems can normally be applied over the existing waterproofing without the need for stripping and removal, saving time and cost. Depending on the system chosen, waterproofing is guaranteed for 10, 15 or 20 years.
Description
Liquid Roof Waterproofing comprises multiple coats (depending on specification), laid on a substrate primed with the appropriate primer, as required. Completely seamless, Liquid Roof Waterproofing is ideal for difficult roofs and details such as domes, walkways and roofs with large amounts of plant and equipment.
View our Awards here
System Benefits
Accelerated waterproof coating providing fast cure, high productivity and less work disruption by bad weather.


Proven in use for many years in all kinds of environment including marine, industrial and chemical.


Applied cold, use of the system may bring reductions in building insurance costs.


The system is seamless across its entire surface.


There is sometimes no need to power wash before installation, which can exacerbate existing leaks.


Simply rolled or brushed into place, the system gives quick cover around complex details and roof features.


The finished surface is extremely durable, resisting the stresses of building movement, thermal fluctuations and foot traffic.


The system is vapour permeable, eliminating the risk of surface blistering through vapour pressure.


A structurally sound roof with failed waterproofing that has not been damaged by water ingress can be covered without stripping the existing waterproofing, saving time and disposal costs.


Fine Granules can quickly be added during installation to create anti-skid areas.


Colour demarcated anti-skid walkways can be created.
View our Projects here
Liquid Roof Coatings - Cap Roofseal
Over the last 10 years there has been a decline in hot works. Capital Roofing always being a forward thinking company could see the potential of high performance liquid waterproofing so they bought out one of the country's leading cold applied liquid waterproofing specialists together with most of their work force.
Always one step ahead, Capital has now developed their own liquid waterproofing products called Cap Roofseal and Cap Roofseal Plus. Cap Roofseal is an acrylic roof repair system that has many advantages, the best being that it is impervious to water immediately after applying it to the roof surface. Cap Roofseal Plus has fibres added during the manufacturing process making it an ideal product for roof overlays and repairs.
The products have been in use for the last 5 years and accelerated tests have been carried out to 10 years with no cracking or signs of wear. As of June 2010 tests are still being carried out with very successful results. Cap Roofseal has already been used by several London local authorities, schools, housing associations and churches. Housing associations are particularly pleased with the product because of its flexibility, durability and aesthetically pleasing appearance. It really does do what is says on the tin.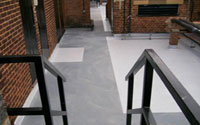 Capital Roofing Co Ltd Serves The Following Areas