Time and date
CONSTRUCTION DIRECTORY
Power-Lift Ltd (HO)

Contact Details
Address
18 Marlborough Road
Nottingham
Nottinghamshire
NG5 4FG
England
About Power-Lift Ltd (HO)
Power-Lifts Custom built Platform lifts and Lifting tables
Power Lifts are experts in scissor-lift tables, and provide an extensive range of standard and bespoke manufactured scissor style, platform-lifting tables. Our scissor-lift tables can be custom designed for all industries and all environments, as they can be made from galvanised or stainless-steel materials, even ATEX rated. Our lifting platforms and lift tables are custom built for heavy-duty handling of goods, vehicles and/or persons.
Lift tables are typically used for lifting large, heavy goods over a small change of height within a building or in an outdoor environment. Material handling of goods, perhaps of pallets onto conveyor systems, or for vehicle loading or mezzanine storage. They can also be used for disability access through mobility-impaired wheelchair lifts.
Range of Platform Lifts and Lift Tables
The shortest scissor-lift table supplied by Power Lifts is 600 mm and the longest production-line lifting platform is 15,000 mm. The narrowest lifter is 350 mm and the widest is a stage lift at 6,500 mm.
Lifting tables usually have a rise of between 80 mm and 3 metres (up to 6 metres can be accommodated). Most of our lift tables are electro-hydraulic; other methods of actuation include push chain (Serapid or SMS type), trapezoidal screw drive, air motor and air bag or air spring, and belt drive (though rare) can be supplied. Most lifting tables can be manufactured in standard carbon steel, galvanised steel or 304 and 316 stainless steel, or various combinations.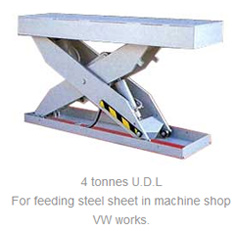 World Class Supplier of Lifting Tables; also known as Lift Tables, Scissor Lifts and Platform Lifts
Power-Lifts' area of expertise is single and multi-stage electro-hydraulic scissor-actuated lifting devices. Our main factory only produces scissor lifts; it is not distracted by other products, and every working day it designs and manufactures scissor lift-tables to client requirements. If you want a scissor-style lifting tables, then we want to talk to you, wherever you are.
Lift Tables
Single-Scissor Lift
Double-Horizontal Scissor Lift
Double-Vertical Scissor Lift
Stainless-Steel Lift Tables
Low-Closed Lift
Custom-Made Lifts
Optional Features
Disabled and Wheelchair Lifts
Manual Handling
Pallet Trucks
Stacker Trucks
Hovmand Mini Lifts
Power-Lift supply a range of Manual Handling Lifts to suit almost any purpose in the workplace. From Basic pallet moving, to manual and electro-hydraulic stackers, and specialist mini-lifts for material and roll handling.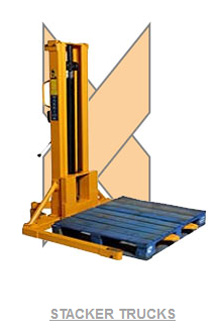 Gallery
Click to close
Videos
News
10/08/2016
Scissor lift tables and lifting platforms Lifting capacity 500kgs / daN upto 60000kgs / daN
---
USES

*Vehicle loading and Dock lifts. Compatible with pallets, roll cages, pallet trucks, man riders and fork lift trucks.

*Production line - In feed and Out feed, stacking and de-stacking, ergonomic, repetitive product positioning. Automatic, semi-automatic or hold to run.

*Load transfer - palletising goods, powered roller track, chain transfer units and ball top units.

*Fixed or variable height adjustment. Floor to floor, layer to layer, sheet material handling.

*Bespoke manufacture, replace existing units, heavy duty, high frequency.

*Stainless steel, galvanised carbon steel, zinc coated, ATEX, Off-shore, Nuclear and Aero-space.

*Whatever you want or need, so long as it is legal and fit for the purpose intended. Power-Lifts will work hard to supply you with the scissor lift table you require.


DESIGN

Power-Lifts Scissor lift tables / Lifting platforms are designed to carry dynamic and off centre loads within the BS EN 1570 description of half the load on half the platform length, 1/3 the load on half the platform width.

Platforms made with square not radius edges for greater strength, better load support and machinery mounting. Platforms can be smooth or slip resisting tear pattern plate. Heavy duty, quality arm roller bearings. Crown head, yoke type, track roller bearings with a twin ball and cage, lithium greased and sealed for life. Chromed for heavy duty or stainless steel axle and cylinder pins as options.

Integral (within baseframe) or remote power packs. IP54 as standard. 3 phase, single phase or low voltage DC and manual pumps available. Hold to run emergency lowering. Standard single scissor lift tables offer a stroke (change in height) equal up to 60% of the platform length. A 3,000mm long lift table will typically give 1,800mm of stroke / travel. Double vertical scissor lifts ( one arm set over another) will offer a stroke (change in height) equal up to 120% of the platform length. A 2,500mm long lifting platform will typically give 3,000mm of stroke / travel.

Double horizontal scissor lifts / tandem lifts ( one arm in line with another) will offer a stroke (change in height) equal up to 30% of the platform length. A 2,500mm long lifting platform will typically give 800mm of stroke / travel.

The construction, hydraulic and electrical systems conform to the requirements of European standards. Typically these include safety gaps and clearances between fixed and moving parts, moving and moving parts, hose break rupture valves, mechanically actuated safety trip device, manually operated blocking devices, overload detection and protection. Most of Power-Lifts scissor lift tables are supplied with an individual Load Test Certificate as well as the applicable Certificate of Conformity of Certificate of Incorporation.


OPTIONAL EXTRAS

Power-Lifts offers a wide range of extra features that helps specifiers customise their scissor lifting platforms to meet their specific
02/08/2016
Powerlift's Hydraulic Lift Tables Benefit Long-Term Health
---
Lifting platforms, which are also known as scissor lift tables are the perfect ergonomic solution to reducing the risks associated with manual handling jobs. International lift table manufacturer Powerlift has a wide variety of products to help maintain health and safety in the workplace.

Medical research has proven that continuous manual handling of objects gradually increase the risk of long term health issues including repetitive strain disorder, back pain and even bad cases of Musculoskeletal Disorders (MSDs).

Power-Lift's hydraulic table lifts will provide the manufacturing industry with a number of benefits including the reduction of MSDs; helping to increase efficiency in manual and material handling, improving the flow rate of the production process and generally better working conditions for employees.

The increased demand of Power-lift products including stainless steel lift tables is thanks to latest update of the Ergonomics legislation, which states that 'where possible, you should provide mechanical assistance' in the workplace; manual lifting of heavy objects is slowly becoming a thing of the past.

Items such as the scissor lift tables can not only alter the height of the table to suit the worker, but can also vary the angle at which the employee works. The low closed lifts available from Powerlift make working more efficient as well as safer and do not need a pit.

In addition to the variety already available on the website, Power-lift have many hundreds of lift table plans that can be amended to provide a custom built unit to a customer's exact needs.

01/08/2016
Hydraulic Scissor Lift Tables from Power Lift Ltd
---
Leading supplier of industrial power lifts; Power Lift ltd offer an outstanding range of horizontal and vertical hydraulic scissor lifts for use in both industrial and retail warehouses.

Hydraulic scissor lifts are the perfect substitute for manpower when lifting certain weights or to specific heights can become a health and safety issue.

Power-Lift ltd have over forty standard horizontal scissor lift models available to purchase, which can take up to thirty tonnes of payload. The mechanically synchronised lift is suitable for long loads and is an essential ergonomically effective solution for work places handling heavy loads.

Another option is the popular vertical double scissor lift model; suitable for packing warehouses and industrial warehouses which require lifting to specific heights. There is a choice of over forty standard models which can lift up to a forty tonne weight. Some models can also be modified with a raised base platform in order to be easily transported around the warehouse via forklift.

If any of the hydraulic scissor lifts tables do not meet your specific industrial requirements; Power Lifts Ltd also provides a range of bespoke scissor lifts. Available at the moment are a hydraulic lift system with a tilting platform for working at difficult angles, there are also a number of optional features including; a platform mounted handrail, gravity powered roller tracks and manually operated loading flaps.

Each hydraulic lift table is fully protected with hard wearing two component acrylic resin surface coating. Tables come with a comprehensive owner manual and special certificates are available upon request.

01/07/2016
Power-Lifts outdoor lifting platform
---
Power-Lifts (www.powerlift.co.uk) were approached by an architect for a small retail centre to provide a bespoke outdoor platform lift table custom designed to blend in sympathetically with the listed building and its railings.

The lifting platform needed to be multi-purpose so that it could be used by traders to receive deliveries and assist wheelchair users, the disabled and mobility restricted. The barrier rails were designed to be architecturally attractive as well as extremely robust and vandal resistant. The gate locks have to be weatherproof and the lift floor / platform is covered with local stone and harmonious with the surrounding paving.

Power-Lifts introduced Jonathan Stokes of Lift man (www.liftman.co.uk) from St. Austell to the developers as the ideal partner to turn their needs into reality. Liftman made several visits to site and then worked with Power-Lifts to specify a tailor made IP65 weatherproof, two tonne capacity double vertical scissor lift table with specially fabricated corrosion resistant, profiled solid steel armsets, 10mm. thick steel deck plate and stainless steel axle and cylinder pins. To restrict ingress to the undersides of the lift when raised galvanised steel wire mesh curtains were fitted.

UK based Power-Lifts Limited supply heavy duty, engineered scissor lift tables to industries across the World. Most of Power-Lifts units can also be offered with a galvanised finish or in stainless steel. Power-Lifts scissor lift tables can be electro-hydraulic or rigid / push chain actuated.
01/01/2016
Power-Lift is a world class supplier of hydraulic lift tables
---
Power-Lift is a world class supplier of hydraulic lift tables, also known as scissor lift tables, lift or lifting platforms or scissor jacks.

The purpose built manufacturing facility is entirely dedicated to the manufacture of lift tables. Power-Lifts offer an extensive range of over 200 pre-designed, well tried and tested standard units ready for quick despatch across the Globe. The factory's in-house drawing office has over 30 years of experience in designing state of the art elevating platforms, custom produced to meet the customer's exact requirements. Tailor made or bespoke built platform lifts represent about half of our business.

Most of the Powerlift output is centred around electro-hydraulic platform lifts, as an alternative or in addition we can supply hand or foot operated hydraulic pump units. When a manually operated pump unit is provided in addition to the electrically powered pump it will normally be fitted in parallel using the same reservoir. This enables either emergency use, use in the event of a power failure or when sensitive, accurate positioning is a requirement, for instance in die and mould handling or when replacing large underslung motors or gear drives in trains.

Not all actuators are hydraulic, we can supply pneumatic air bag operated lifts, trapezoidal screw actuation, telescopic rigid chain and even belt driven. Each method has its unique set of advantages and sometimes will be governed by location, environment, speed and frequency of operation.

Lift tables can be described as suitable for lifting heavy loads through relatively short distances. The distance (stroke / travel) a platform lift will rise through is, of course, directly related to the length of the platform and the quantity of armsets under it. For instance a 2,500mm long single scissor will rise approx. 1,600mm.. If this is built as a double vertical lift with two armsets, one above the other, then there could be about 3,100mm of rise / stroke / travel.

Scissor lifts are supplied into many different environments. In explosive atmospheres they will need to be ATEX rated and may need Notified Body approval. They can be built of stainless steel in differing grades eg 304 or 316L. Power-Lifts also offer hot galvanising ( hot dip galvanized), special paint finishes and zinc flame spray specialist surface protection coatings. A cost effective way of getting corrosion resistant lifts is to have the exposed parts fabricated from stainless steel and have the lesser exposed parts hot galvanised. Other forms of protection can include pvc coated bellows guards, roller blinds and steel wire mesh curtains. Ingress protection, also called IP rating, also needs to be assessed according to the area of use, for Power-Lift IP54 is our baseline standard, as is BS EN 1570 - The Safety Requirements for Lifting Tables.

Platform lifts are usually some form of access platform, they assist with ergonomic handling and lifting, work positioning.
01/10/2015
Power-Lifts supply bespoke lifting solutions to major engineering projects
---
Power-Lifts were called in by Cleveland Bridge to supply two 30 tonne lifting platforms to position the supporting steel members for a road and rail bridge replacement scheme. The project was so successful that later when a massive 120 tonne lifting capacity was needed for Europes largest civil engineering project Crossrail then Powerlifts supplied another 2 identical scissor lift tables to Severfield Plc.

Nottingham based Power-Lifts supply custom built hydraulic or push chain scissor lift tables to many of the Worlds leading Engineering companies. Push chain also known as rigid chain actuated lifts are becoming increasingly popular for intensive use applications.
11/11/2014
DaxLift - the indoor or outdoor no pit mobile wheelchair lift!
---
Where quick, easy to position and use, low cost or even temporary access for those with impaired mobility is required then the DaxLift from Power-Lifts may be for you. The DaxLift sits on the floor and can be used indoors or temporarily outside.

The DaxLift disabled access lift can be used with changes in height of up to 830mm. dax lift disabled access lift/ 32 inches.

When security and safety is a consideration the DaxLift can be easily positioned or removed by 1 person. It is simply wheeled away! DaxLifts typically weigh between 55Kgs. and 80Kgs. This makes the DaxLift ideal when only temporary access is required.

The lifting platform is operated by means of a low voltage pendant style control station stored on the side barrier rail.

A manual ramp (or optionally an electrically adjustable ramp) provides easy access to the lifting platform. The electric ramp automatically raises and lowers when the control station is operated. When in the raised position the ramp acts as a barrier to prevent a wheelchair from rolling off. For increased safety the lift movement is interlocked with the ramp's position.

A concertina bellows guard can be fitted to the undersides of the platform to restrict ingress of children, animals and foreign objects. The addition of a goal post style barrier serves as protection at the upper level. The long sides are fitted with a 400mm. high barrier rail.

By means of adjustable upper height limit switches, the DaxLift can easily be set to the requested lifting height.



The lifting platform and the access ramps are covered with a slip-resisting coating.

We reserve the right to alter the description and specifications without notice. Errors and omissions are excluded. This document is not part of any contract and is not to be relied upon. It is up to the purchasers and users to ensure this equipment is positioned, commissioned, installed and used safely. The manufacturer intended this lift to be used by persons in wheelchairs without visual impairment and after instruction in safe use. Child use must be under the supervision of a responsible adult. As the equipment is repositionable there must be continuous assessment of the risks and hazards associated with its use. For instance, crush, trap, shear, roll-off and barriers of variable height amongst others. Any surface adjacent to the lift must be smooth, vertical, continuous and durable, without indents and overhangs. The lift should not be left connected to the electrical supply when unsupervised in areas to which the public and especially children could have access.

Products & Services
lift platforms
lift manufacturer uk
lift manufacturer england
lift manufacturer
lift manufacturers uk
lift manufacturers england
lift manufacturers
lifting equipment uk
lifting equipment ireland
lifting equipment scotland
lifting equipment wales
lifting equipment england
lifting equipment
Lift Installation and Removal
lifts - servicing and repairs
lift installation
Lifts servicing and repairs
stair lifts
scissor lifting tables
international platform lifts
platform lifts
hovmand mini lifts
stacker trucks
pallet trucks
disabled and wheelchair lifts
wheelchair lifts
disabled lifts
lift table components
optional features
custom made lifts
low closed lifts
stainless steel lift tables
double vertical scissor lift
double horizontal scissor lift
scissor lifts
scissor lift
single scissor lift
scissor lifts
Power-Lift Ltd (HO) Serves The Following Areas
Find Power-Lift Ltd (HO) in
Power-Lift Ltd (HO) General Description
scissor lift tables, scissor lifting equipment, wheelchair lifts, vehicle loading equipment, custom built lifts, lift tables, platform lifts
Power-Lift Ltd (HO) Branches