Time and date
CONSTRUCTION DIRECTORY
Crown Preservation

Contact Details
Address
78 York Street
London
W1H 1DP
England
About Crown Preservation
Woodworm Treatment and Control
The term woodworm is an inaccurate one, as 'woodworm' is actually a beetle infestation.
The damage caused to the timbers is due to the feeding of beetle larvae.
The adult beetle lays its eggs in a crack or crevice within the timber and the larvae hatch soon after. The larvae burrow their way through the timber for many years before emerging as an adult beetle in the warmer Summer months, and when they in turn lay new eggs the infestation process begins again.

Basement / Cellar Waterproofing
Waterproofing is necessary when Penetrating Damp (as opposed to Rising Damp) travels across or down masonry.
Where high ground or below ground areas (i.e. your basement / cellar) are affected your surveyor will inform you that these areas require a tanking system.
Damp Proofing, Treating Rising Damp
There are many sources of dampness that affect our properties. The most common forms of dampness tend to be Rising Damp (discussed here), Penetrating Damp, Condensation, and leaking rain water.
It is important to identify the correct cause in order to treat the problem and not spend cash unnecessarily.

Dry Rot & Wet Rot Treatment & Repair
All rots are Wet Rots, with the exception of the brown true Dry Rot (surpula lacrymans). All wood rotting fungi obtain their food by breaking down wood cells, causing loss of strength.
The fundamental principle for the control of all fungal decay such as Dry Rot and Wet Rot is the control of water; a fundamental consideration for timber preservation is that timbers should not be left in a position where they might become or remain damp.
Wood rotting fungi can be categorised in two groups: brown rot and white rot. Brown rots tend to darken the timber, causing cracking along and across the grain. White rots lighten the timber, but cause no cracking.

Condensation Explained
Condensation generally occurs in the atmosphere when warm air rises, cools and loses its capacity to hold water vapor. The water vapor condenses on a cool surface to form liquid water. Condensation is crucial to the water cycle because it is responsible for the formation of clouds. Clouds produce rain, the primary way water returns to the surface. In short, condensation occurrs naturally in our environment.
(Cavity) Wall Tie Replacement
As many as 2 million properties in United Kingdom may be suffering Wall Tie corrosion or failure and are in need of remedial stabilisation.
The problem is often made worse when insufficient Wall Ties have been used during the construction.
The absence of sufficient and effective wall ties will ultimately result in the structural failure of the wall and probable collapse.
Wall ties that have begun to corrode expand up to ten times their original thickness; this process is the cause of the step cracking associated with wall tie failure.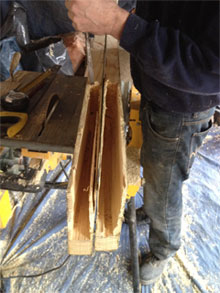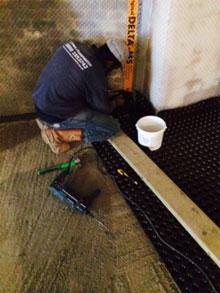 Crown Preservation Serves The Following Areas