Time and date
CONSTRUCTION DIRECTORY
Burgess CEP

Contact Details
Address
Brookfield Road
Hinckley
Leicestershire
LE10 2LL
About Burgess CEP
Welcome to Burgess Architectural Products Ltd.
The Burgess Company name has been synonymous with quality engineered metal ceilings for over 50 years. In the 1950s Burgess patented and introduced the clip-in metal ceiling tile that has endured to the present time and remains an attractive and economical solution to satisfy the most demanding specification criteria.
Burgess Architectural Products' current product range is both wide and varied offering the ceiling specifier choice in standard and bespoke, or tailor made, solutions to meet the very demanding requirements of modern buildings. Manufactured at our factory in Hinckley, Leicestershire all Burgess Ceilings satisfy the requirements of BS8290 Part 2, 1991 (the current British Standard for metal ceiling systems). Burgess are quality assured to BS EN ISO 9001 (2000) where procedures are followed to ensure full traceability and quality standards are maintained to fully realise the customers' expectations. Burgess continue to invest in modern machinery and techniques to deliver cost effective ceiling products and offer the alternatives of wet applied or powder coated stove cured polyester paint finishes.
Some examples of our products include:
Concealed Grids
Developed by Burgess, this tried and tested system is probably the most widely used metal tile ceiling system. The tiles, manufactured to fine press tool tolerances, are clipped into a concealed Tee Bar grid.
Exposed Grids
Combining the ease of installation afforded by interlocking grid systems with the manufactured accuracy and durability of press formed tiles, the Burgess Tegular System provides an economic solution to many ceiling requirements.
Linear Beam
The Burgess Linear Beam Grid system provides a high specification solution for office environments. The beam sections are arranged in one direction to create a linear ceiling effect, and are used to support the ceiling panels, light fittings and partition tracks.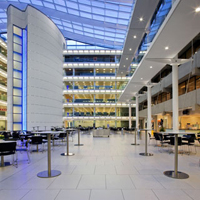 Metalflair
Burgess Architectural Products has a wealth of experience gained in over 50 years' service to the metal ceiling industry. Architectural design concepts can be transformed into quality engineered ceiling solutions using the skills and technologies developed over this period.
Biocote®
Biocote® is a worldwide patent protected powder coating technology that has excellent advanced anti bacterial qualities. The active agent is based on natural products that are proven to be safe.
Corridor Solutions
The Burgess Nilgrid system is designed to solve the many problems associated where services are concentrated in the corridor ceiling void and when easy and frequent access to these services is required.
Our website is designed to show the choice of systems, many of which are available from stock kept at our Hinckley facility. Please click on our logo above to be taken directly to our main site.
Burgess CEP Serves The Following Areas