Time and date
CONSTRUCTION DIRECTORY
Essex Hinge Co Ltd

Contact Details
Address
Tallon Road
Hutton Industrial Estate
Brentwood
Essex
CM13 1TP
England UK
About Essex Hinge Co Ltd
High quality hinges
, backed by the highest standards of customer service.
We stock a huge range
of continuous, butt, sprung, weld on and lift-off hinges ready for immediate delivery.
Custom made hinges are our specialty.
Combining over 70 years experience with state of the art technology we aim to meet customers' requirements and keep cost to a minimum.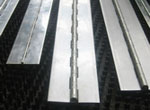 Continuous Hinges
We stock a large range of continuous hinges in various materials ranging in thickness from 0.9mm to 3.0mm. Open widths from 19mm to 100mm are kept in stock for immediate delivery and larger widths can be made to order.
Butt Hinges
We stock three styles of Butt hinge ready for immediate despatch in mild steel and stainless. These hinges can be supplied with or without holes to suit your specifications. All butt hinges are unswaged/flat backed unless stated.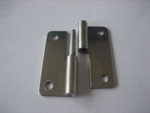 Lift Off Hinges
Our lift off hinges provide quick and easy door/panel removal and are available in various materials, widths, lengths and gauges.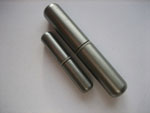 Weld On Hinges
Our standard range of round steel weld on hinges are manufactured from EN3B(070m20) which is ideal for welding.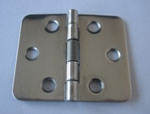 Sprung Hinges
Our standard range of sprung hinges in stainless and mild steel are ready for immediate dispatch. These hinges can be modified to suit your requirements ensuring the correct spring torque for the application.

Custom Hinges
We have more than 70 years experience plus the design expertise and manufacturing capability to produce custom hinges for demanding applications.
The high cost of initial tooling has been the drawback to producing custom hinges by traditional methods. We have invested in state of the art manufacturing equipment which overcomes this problem. This means that high quality custom hinges can be produced quickly with minimum, and in some cases, no tooling costs.
Essex Hinge Co Ltd Serves The Following Areas