Time and date
CONSTRUCTION DIRECTORY
Capital Aluminium Extrusions Ltd

Contact Details
Address
Leconfield Industrial Estate
Cleator Moor
CA25 5QB
England UK
About Capital Aluminium Extrusions Ltd
Aluminium Extrusions, Profiles, Fabrications, Powder Coating and Machining.
Capalex provide a full range of on-site services including extrusion, powder coating, machining up to 7.6 metre lengths and assembly - all under one roof, under our control. Capalex have also gained a reputation as the specialist manufacturer of complex, high tolerance aluminium extrusions in a wide range of commercial alloys, including 1050, 1200, 2014, 2014A, 2017A, 2024, 3003, 5083, 6005A, 6060, 6061, 6063, 6063A, 6082, 6463, 7020, 7075 subject to temper requirements and product specification.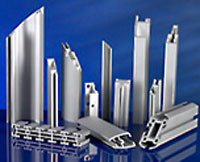 We can extrude special aluminium extrusion sections and aluminium profiles weighing just 0.012kg/m with walls as thin as 0.5mm. We also supply a huge range of standard profile extrusions and offer a comprehensive range of machining and assembly combined with full powder coating and plating service.
Competitively priced and available in any quantity our high quality aluminium extrusion profiles are used in many sectors across the globe. Our customers range from one man engineering shops to some of the biggest multi-nationals.
Capalex's flexibility and responsiveness has made us particularly useful in product design, research and development where design and development engineers have found our quick turnaround, no minimum order service invaluable for prototyping and one-off projects, which require small minimum quantities and a quick lead-time. The aerospace industry has particularly found our service suited to their requirements.
We supply aluminium extrusions, CNC machining, powder coating into every industry market sector including aerospace, architectural, automotive, defence, display, electronics, engineering, furniture, leisure, marine, product pesign, retail, and rail & signage.
Aluminium Extrusions Standard Profiles
Standards are made to order normally within 2 weeks. We do not stock profiles without prior agreement with a customer.
Aluminium Equal Angle


Aluminium Unequal Angle


Aluminium Channel


Aluminium Lipped Channel


Aluminium Unequal Leg Channel


Aluminium Tee


Aluminium Flat Bar


Aluminium Round Bar


Aluminium Square bar


Aluminium Hexagonal Bar


Aluminium Round Tube

Aluminium Square tube


Aluminium Rectangular Tube


Aluminium J Section


Aluminium Bevel Edged Bar


Aluminium Half Round Bar


Aluminium Double Feathered Edge


Aluminium Single Feathered Edge


Aluminium Z Section


Aluminium Top Hat Section


Aluminium H Section
Capital Aluminium Extrusions Ltd Serves The Following Areas
Find Capital Aluminium Extrusions Ltd in