Time and date
CONSTRUCTION DIRECTORY
Fenland Fire Contracts

Contact Details
Address
Unit 3 Laburnum Farm
East Hyde
Bedfordshire
LU2 9PW
England UK
About Fenland Fire Contracts
Fire Rated Ductwork
Fenland Fire Contracts formed in 1996 to offer solutions for problems relating to fire stopping and fire insulation, within the ductwork industry.
However it rapidly became apparent that the ductwork industry was looking for an alternative fire rated duct system that they could manufacture, and include within their tender package when tendering for conventional galvanised steel ductwork projects.
An initial test was carried out at the end of 1998 for fire inside (Type B) Duct and a test in early 1999 for fire outside (Type A) Duct. Further tests have been undertaken to provide data for various alternative requirements.
Services
The services that we provide:
1)
Fire Protect Ductwork
manufactured by other ductwork contractors. Ductwork must be manufactured to FFC duct specifications to comply with B.S. 476 Part 24 test requirements.
2)
Manufacture
fire protected ductwork to clients working drawings. Ductwork supplied to site complete with all necessary sealants and gasket materials, ready for installation by others.
3)
Manufacture, Supply and Install
- FFC will produce manufacturing drawings of fire rated ductwork systems from site dimensions, construct the ductwork, deliver to site, off load and carry out the installation. After completion the installation is inspected and FFC will provide a Certificate of Conformity
4)
Supply Fenland Firetech Insulation board
to enhance the insulation ratings of FFC systems. An installation service can be offered where required.
5)
Offer advice
to designers/consultants, concerning the building services requirements of Fire Rated Ductwork for smoke extract, car park extraction, kitchen extraction, escape corridors, etc.
The company can presently offer fire rated ducts for:
Stability, integrity, and insulation if specified, tested to the standards required by British Standard 476 Part 24 by the independent NAMAS-accredited Building Research Establishment. Complete details are fully documented in the Building Research Establishment Report.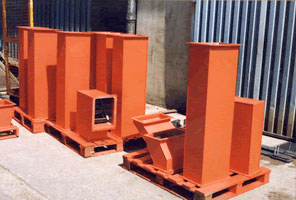 The company began trading in January 1999 and our ductwork system has been used on many major projects, which include all the fire related ductwork at the new headquarters of GlaxoSmithkline; kitchen extract systems at Luton Airport for Luton Airport Concessionaires and The Stakis London Hotel in Edgeware Road, London. More examples of projects can be found on the case studies page.
The company now has an annual turnover in excess of one million pounds, but still retains the strong desire to please our clients both in the level of service and the speed by which we can deliver and install our product.
The three directors have years of experience in the ductwork industry and have been involved in fire related ducting since the early part of the 1990s.
The company's main premises are situated close to the M1 at Luton, within easy travelling distance both to central London or the Midlands and North, with administration additionally handled from our satellite offices in North Cambridgeshire and West Yorkshire.
Fenland Fire Contracts Limited are prepared to undertake the complete system from the preparation of working drawings, manufacture and installation or work with the conventional ductwork contractor and fire protect their ductwork when manufactured to Fenland Fire Contracts specifications.
For more information, please Contact Us!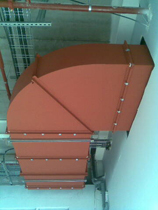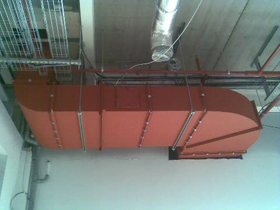 Fenland Fire Contracts Serves The Following Areas
Find Fenland Fire Contracts in
Fenland Fire Contracts General Description
fire rated ductwork supplier, fire rated ducting installer, fire protected ductwork manufacturer, bedfordshire england uk, Fire Duct, Fire Protected Duct, BS476, BS476 Part 24