Time and date
CONSTRUCTION DIRECTORY
Specialist UK Restorations Ltd

Contact Details
Address
Hanover House
85 Hanover Street
North West
L1 3DZ
England UK
About Specialist UK Restorations Ltd
Specialist UK Restorations (SUKR) excel in working within the specialist construction industry in the United Kingdom. Our experiences include working with many public and private sector bodies on numerous prestigious and sensitive buildings and locations. With experienced professional staff in all areas of the business, we have a tried and tested seamless process, to help deliver your works on time and to an agreed budget. Since our inception in 2005 Specialist UK Restorations have built a reputation for delivering the highest quality of work in conjunction with unrivalled levels of technical professionalism.
As a relatively small business within the construction industry we are able to offer premium levels of customer service, from initial enquiry, right through to successful works and project completion. We pride ourselves on our flexibility in supporting our clients to achieve the highest quality of work, on-time and on-budget. As elements of our works are 'reactive' we will often survey, specify, quote and mobilise on a scheme within a 24 hour period, a key point in maintaining our client relations.
We take satisfaction from our excellent H&S record, and are accredited with SSIP schemes CHAS & SAFEcontractor. We are also Constructionline accredited and to demonstrate our commitment to having a trained workforce the company have achieved the CITB Platinum Standard Certificate and currently some 100% of the workforce carries CSCS certificates.
Within our technical areas of expertise we are approved installers for amongst others the following specialist material manufacturers, Sika Ltd (Sika Registered Waterproofing Contractor), Helifix Ltd (Helifix Micro-Piling Contractor), Remmers Ltd, Fosroc Ltd, Flexcrete Ltd.
Services Offered & Experience
Structural Repair & Reinforcement Systems
Lintel Repairs & Creating Load Bearing Masonry Beams, Crack Stitching, Remedial Wall Ties, Movement Joint Creation, Helifix Micro Piling, Traditional Underpinning
Educational Institutions, Housing Associations, Commercial & Industrial Property, Rail & Road Bridges
Concrete Repairs & Protection
Repair Mortars, Impregnations, Corrosion Inhibitors, Protective Coatings, Galvanic Anodes
Educational Institutions, Housing Associations, Commercial & Industrial Property, Rail & Road Bridges, Car Parks, Nuclear Power Stations
Structural Waterproofing
Waterproofing Renders & Screeds, Waterproofing Coatings, Cavity Drainage Systems, Balcony Waterproofing, Resin Injection
Basements/Cellars, Underground Car Parks, Retaining Walls, Lift Pits, Water Industry Projects e.g. sewage treatment works, Water Retaining Structures e.g. swimming pools, Nuclear Power Stations, Church Baptisary Pools
Stone Restoration & Conservation
Traditional Stone Indents, Terracotta & Faience Repairs, Masonry Consolidation, Natural Hydraulic Lime Re-pointing, Cosmetic Hand Placed/In Situ Repairs, Grouting of Random Stone Walls, Stucco & Lime Render
Educational Institutions, Railway Stations, Grade II Listed Buildings, Places of Worship
Façade Cleaning & Maintenance
Abrasive Blast Cleaning, Vortex Blast Cleaning, Pressurised Water Cleaning, Chemical Cleaning/li>
Educational Institutions, Commercial & Industrial Property, Railway Stations, Grade II Listed Buildings, Monuments
Bird Deterrent Systems
Bird Netting Systems, Needle Strips, Sprung Wires
Housing Associations, Commercial & Industrial Property, Rail & Road Bridges
Timber Repairs & Restoration
Dry Rot, Wet Rot, Fungal Decay, Woodworm Infestation
Educational Institutions, Commercial & Industrial Property, Railway Stations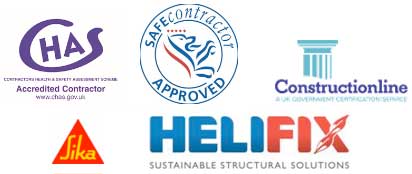 Specialist UK Restorations Ltd Serves The Following Areas