Time and date
CONSTRUCTION DIRECTORY
G S Wilson Associates

Contact Details
Address
Thorn Lea
Horns Cross
Bideford
Devon
EX39 5DJ
About G S Wilson Associates
G S Wilson Associates
We provide a personal and confidential service that includes advice on planning matters and requirements, planning applications, planning appeals and planning enforcement. Other aspects of our services include for building regulations, SAP energy ratings for new build dwellings, EPC's for new build dwellings that are based upon 'as built SAP rating' & a Topographical land surveying service. Additionally, we provide a streamline plans services.
Planning
Planning consent is sometimes required if the works you proposed to do needs consent. Domestic property generally has 'Permitted Development Rights' (PD) that allow you do do certain works without planning consent. Clearly it would be prudent to check if the works you wish to do require planning consent before commencing works on site with a Preliminary Enquiry.
Planning applications
Certificates of Lawfulness
Retrospective planning applications
Planning Appeals
Planning enforcements
By checking first with the Local Authority or a planning consultant, you not only establish if those works need consent, but also if the Authority would grant consent for the works should an application be needed and made.
Building Regulations
Building Regulations or Standards define how a new building, extension or alteration is to be constructed so that it is generally safe, protected from risk of fire, energy efficient, accessible, provides protection from falling and injury due to impact and has adequate ventilation for its purpose amongst other areas of regulation relevant to buildings. Building Regulations approval may be required even if Planning Permission is not.
Building Regulations have three main purposes:
To ensure the health and safety of people in and around buildings.
The conservation of energy.
Access and facilities for disabled people.
Energy
The technical requirements for energy efficiency in each of the UK nations' Building Regulations may differ. However the overall aim is the same: to cut home energy use and CO2 emissions.
SAP Ratings as Designed & As Built
EPC's New Build &Conversions
Large Glazed Extensions and Conservatories
In some areas, there may also be policies that require improvements that cut energy and emissions beyond the statutory minimum standard. Examples of these are the Code for Sustainable Homes, Ecohomes and local 'Merton Rule'-type policies.
Surveying
Topographical Surveys provide a detailed picture of an area of land. All features are shown to a level of detail and scale appropriate to the individual project. Surveys can be related to National (OS) Grid and Datum. Each surveyed point is positioned in 3 dimensions, allowing drawings to be shown with contours and spot levels to produce accurate existing and proposed ground model plans.
We provide the following surveying services:
Detailed Land and Road Surveys
Detailed surveys for the creation of Ponds and Lakes
Boundary Surveys
Drawings provided on CAD to suit clients format
Plotting Services
Drawings may be sent direct via E-mail
Full Total Station and computer equipment
Ground Modelling and Volumetric Calculation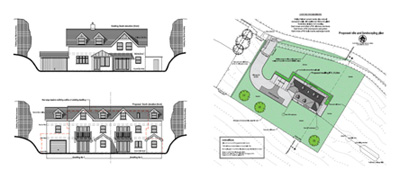 G S Wilson Associates Serves The Following Areas
Find G S Wilson Associates in