Time and date
CONSTRUCTION DIRECTORY
Architectural Contract Services Ltd

Contact Details
Address
Stable Cottage Industries
Wheatsheaf Road
Henfield
West Sussex
BN5 9AU
England UK
About Architectural Contract Services Ltd
The Product
– by ACS Building Systems Ltd is a closed timber frame panel system with a factory produced external weatherproof finish.
This is the building system which the construction industry has been waiting for. The product has a built in flexibility that allows for both pre designed or bespoke homes to be quickly constructed in a controlled factory environment and delivered to site ready for fast assembly. The product complies with current building regulations to obtain local authority building and planning consent.
These include:
High energy efficiency (SAPS formula compliant)
High insulation properties, 'U' value in excess of current building regulation requirements
Acoustically sound
Fire resistance
Impact resistance
Very low maintenance
Non absorption properties
Mould resistance
Corrosion resistance
Durable >60 years
This system is the fastest and most cost-effective technique currently available for creating homes.
The reason for this is that the sections are structurally sound, insulated and weatherproof using a unique closed timber frame panel system with high quality materials and quality control methods to ensure that each panel leaves the factory ready for instant site use.
Unlike all other SIPs (Structural Insulated Panels) this product does not require an outer finish to be applied at site. The system totally removes the need for lengthy and costly outer brick or render finishes to be applied. These construction methods usually account for a large percentage of traditional build budgets and can take up to 50% of the time frame allowed for each building project (weather permitting).
The system can have an outer finish chosen by the customer to include for the following effects : brick, render, pebbledash and timber. It will be pre applied at the manufacturing stage. In fact, most external finishes can be replicated. If required windows, doors and external venting systems can all be pre fitted at the factory to save time on site assembly.
CLOSED TIMBER FRAME PANEL SYSTEM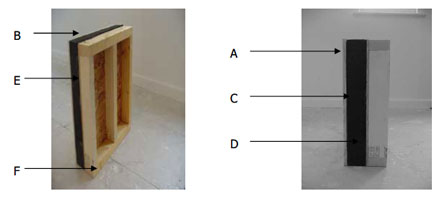 A external finish 6mm
B MDF 12 mm acoustic membrane
C Backing 2 mm
D Foamglas insulation to specified 'U' value required under local building regulations
E OSB 19 mm anti racking panel
F Tanalised Timber Frame 100 x 50 mm to BS standard 5268-1 & 5268-6.1
Example of external finishes
Architectural Contract Services Ltd Serves The Following Areas
Find Architectural Contract Services Ltd in