Time and date
CONSTRUCTION DIRECTORY
Hewitson Fabrication Ltd

Contact Details
Address
900 Thornton Road
Fairweather Green
Bradford
West Yorkshire
BD8 0JG
England
About Hewitson Fabrication Ltd
Hewitson Fabrications
We specialise in all types of construction projects from secondary steelwork through to staircases and stainless steel and glass solutions. Based in West Yorkshire, we're a highly experienced family business with skills passed down from generation to generation. Our business is based on precision, flexibility and innovation.
Products:
Our commitment to customers is built on a solid foundation.
Precision
Because customers cannot afford rejects and rework, they come to us.
Flexibility
We fabricate large and small quantities in all shapes and sizes. Because customers need a full-service outsource, they stay with us.
Innovation
We invest in training, technology and process improvement. Because we give customers a competitive advantage, they grow with us.
On our website you will find, amongst our other products, stainless steel fabrication, bespoke furniture and an example of a fire escape.
Founded in 1959, we have a wealth of experience in our business - we are a family business with skills passed down from father to sons. Our operations have continued to expand and continuously improve in our capabilities of steel fabrication, welding, and supply.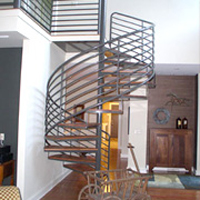 Today we are proud to be a world class operation.. "Satisfying our customers by quickly supplying the most specific needs in specialty steel, welding, and fabrication."
Hewitson Fabrications has become known for its ability to provide quick, reliable turnaround on all types of industrial metal fabrications. Our versatile production capabilities enable us to meet the needs of customers in a wide range of industries. We work from customer specifications to produce parts and equipment that meet or exceed industry standards.
We give personalised attention to every project and offer support services that include manufacturing engineering, problem-solving, drafting and job documentation.
Hewitson Fabrication Ltd Serves The Following Areas
Hewitson Fabrication Ltd General Description
Fire Escape Fabrication Yorkshire Fire Escapes Fitted Yorkshire Fire Escape Repairs Yorkshire Fire Escape Maintenance Yorkshire Stainless steel balconies sheffield stainless steel balustrades sheffield Balconies and Balustrades staircases sheffield