Time and date
CONSTRUCTION DIRECTORY
Brooks Stairlifts

Contact Details
Address
Telecom House
Millennium Business Park
Steeton
West Yorkshire
BD20 6RB
England
About Brooks Stairlifts
Brooks Stairlifts are Reliable, Safe and Comfortable
In 1972, Mr Frederick Brooks designed his first stairlift for his wife Grace when she started to find the stairs too difficult due to her rheumatoid arthritis.
Over the years, Brooks Stairlifts have worked closely with homecare professionals to turn ideas into reality and provide thousands of people with a reliable stairlift. Brooks have brought safety and independence on the stairs to thousands, through their innovation, commitment and inspiration.
Brooks stairlifts are a reliable, safe and comfortable alternative for people who may have difficulties getting up and down their stairs. Brooks stairlifts are simple to operate and do not damage your home as the threads are attached to your stairs and not your wall. As well as these advantages, Brooks stairlifts are not obtrusive to others as they have a slim-line design which enables others to use the stairs as normal.
The Brooks Stairlift is our best seller, and has great features that enable to you enjoy your home once more.
Stairlifts
Our straight stairlifts are built to last, with low maintenance and high reliability. They run on maintenance free DC power packs, which are automatically recharged at the end of every trip. This type of power ensures that the stairlifts are safe to use, and are incredibly smooth.
Safe and Easy
Brooks Lincoln straight stairlifts come with all the necessary features and a few extra ones, as standard. Thanks to all of the available features, the Brooks stairlift is safe, comfortable and easy to use.
Soft start and stop system - no sudden jolts
Easy to use joystick control
Remote control system - means no messy wiring
Low voltage operation - eliminates risk of shock
Electro mechanical braking with failsafe overspeed governor
Delivered fast - delivered in days, fitted in an hour
Features
Here are just a few of the features which set us apart from other stairlift manufacturers and ensure we remain true to our guiding principles of quality and care:
Slimline design.
Runs on maintenance-free rechargeable batteries. Works even in a blackout!
Numerical fault code display, for easy diagnostic and repair guidance.
Weight capacity 20 Stones (127Kg).
No unsightly structural work needed - fits direct to your stair treads rather than the wall.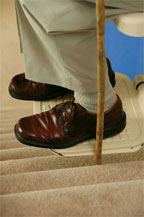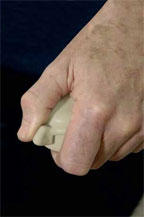 Support
Due to the fact that your Brooks stairlift will be built specifically to the requirements of your stairs, Brooks will happily send out one of their fully trained consultants to your home to discuss your stairlift requirements.
Whilst they are there, they will also carry out a no-obligation survey so that you will be able to get a quote for a stairlift and purchase one in your own time.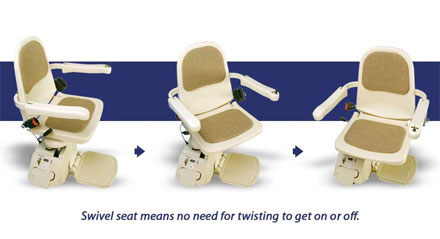 Brooks Stairlifts Serves The Following Areas
Find Brooks Stairlifts in