Time and date
CONSTRUCTION DIRECTORY
Clarks Modular Buildings

Contact Details
Address
Freshmoor Road
Cardiff
South Glamorgan
CF24 5HS
About Clarks Modular Buildings
On-Site buildings for construction projects
If you represent a construction company that needs temporary or semi-permanent buildings whilst completing a construction project, we have a solution for whatever you need.
Our modular building service offers a level of bespoke design that many companies cannot compete with. Simply give us a call, tell us what you need and we can accommodate it. Need two or three storeys? We can take these factors into account and design / build accordingly. All internal and external staircases can be provided.
No job too small or large - our modular buildings can adapt to any situation.
Does your school or university need more space?
Have you considered using modular buildings to create more room for teaching? Whether you need more space permanently, or you need a stop-gap building whilst you construct an extension to your existing building, we have a multitude of options for you.
Choose from a variety of options
Depending on what you need for the project, we can provide a multitude of extras such as air-conditioning, carpets and IT systems and telephones. For more information, take a look at our project management service.
Does your company need a semi-permanent or permanent modular building?
Is your company expanding fast? Chances are you need more space to keep up with your growth. We can construct modular buildings to exacting specifications that will help you keep up with demand.
Our modular buildings are constructed mainly off-site, causing far less disruption than more conventional construction. Their build quality can be every bit as good.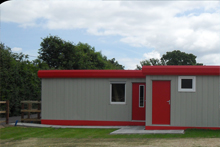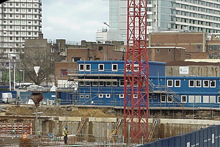 Want to save yourself some money on a modular building?
Our refurbished buildings are simply ones that have been used in previous construction projects or installed in other sites. We thoroughly clean, repair any damage, repaint and renovate each one so you'll get a building that's as good as new, at a fraction of the cost.
You can add any of the optional extras you wish with our extensive range of new products. Meaning you can fully tailor your modular building to your exact needs.
More than just a Modular Building supplier
For some of our clients, construction of the building is only half the job. There can be a wide range of other considerations. Luckily we can handle all of them.
Finishing touches:
Air conditioning
Cat 5 cabling - IT / telephone
Burglar alarms
Fire alarms
Carpeting
External fascia trim
Corporate colours
External lighting
Clarks Modular Buildings Serves The Following Areas
Find Clarks Modular Buildings in
Clarks Modular Buildings General Description
Modular Building supplier Cardiff Modular Building supplier Wales Modular Building cardiff Modular Building Wales modular building Hire Modular building sales cardiff vModular office buildings cardiff modular Toilet Blocks hire wales modular Classrooms cardiff