Time and date
CONSTRUCTION DIRECTORY
Rubb Buildings Ltd

Contact Details
Address
Dukesway
T.V.T.E
Gateshead
Tyne and Wear
NE11 0QE
England UK
About Rubb Buildings Ltd
Rubb Buildings Ltd is a world leader in the design and manufacture of custom made bespoke relocatable and permanent engineered fabric building structures.
What We Do
Highlights include our ground-breaking military hangars, sunshades, shelters, warehouses and workshops, specialist sport halls and storage buildings for a variety of sectors including aviation, ports, construction, bulk storage and environmental (waste and recycling).
All our products are designed and manufactured at our UK plant in Gateshead, Tyne and Wear. The company was founded in 1977 and has a proud history of delivering innovative and quality structures to a wide range of clients.
Fabric structures offer greater flexibility for expansion and creativity in design
Clear span buildings offer the maximum usable floor space
Efficient and quick construction
A more affordable alternative to traditional buildings
Our structures can be resold, relocated and reused
Translucent roofs provide natural light
Service
Our service engineers and technicians are experts in the production of steel and aluminium framed PVC fabric clad structures with more than forty years of experience. Rubb Buildings works closely with clients throughout the process, from design and materials engineering to manufacturing, site work and installation.
Quality
Rubb designs and manufactures engineered fabric structures of the highest quality, meeting or exceeding ISO 9001 registered standards. From start to finish, quality is the benchmark for every element of the Rubb process.
Rubb Products:
Port Buildings
Environmental Buildings
Marine Structures
Construction Shelters
Architectural Structures
Emergency Relief Shelters
Bulk Storage Buildings
Thermohall insulated Buildings
Custom Structures
Projects: 1. Tradewood & Co | Belfast, Northern Ireland
Having the capability to increase storage capacity is critical for many businesses. Rubb Buildings Ltd has the storage solution to help companies optimise their growth and profitability. For Tradewood Agencies it was certainly the bigger the better - the Rubb warehouse facility in Belfast, Northern Ireland, is truly a massive structure.
With its 101m span x 395m length, the Triple Link BVE provides a floor area of 9,595 square metres. The warehouse provides plenty of space to store a range of timber and timber products including doors, flooring and plywood for distribution throughout Ireland and the UK.
On completion of the main structure the client added a 320m² mezzanine floor to provide office space.
---
2. Sunderland A.F.C Academy of Light Indoor Training Facility
Rubb Buildings Ltd was a key player in the team tasked with completing a new indoor training facility for Sunderland Association Football Club.
Sunderland's stars of the future will begin using the Rubb training hub at the Academy of Light, Cleadon following the official opening on December 7, 2012. Local manufacturing SME Rubb pitched in with Tolent Construction Ltd and architects Red Box Design Group to make SAFC's long awaited training facility plans a reality.
The sports building features Rubb's largest building span width to date at 82.4m. The facility measures 64m long with sidewalls of 7.75m and a central internal clearance of 10m high.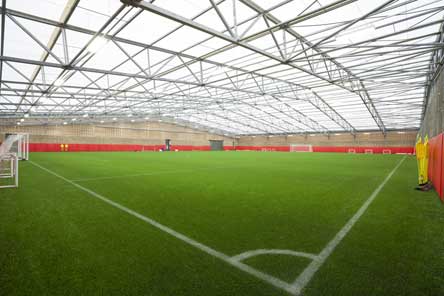 ---
3.  Horizon Flight Academy Helicopter Hangars
Rubb Buildings Ltd won an order to provide three 23.4m x 36m steel and aluminium hybrid EFASS structures to Horizon Flight Academy.
The high flying academy is based at Al Ain International Airport and has been purpose built for flight training. It has set the benchmark for pilot training in the Middle East, offering fixed wing and helicopter pilot courses. Its fleet includes Cessna 172SP, Diamond DA42, Bell 206 and Bell 407 aircraft and flight simulators. The hangars will be used for the storage and maintenance of the fleet helicopters.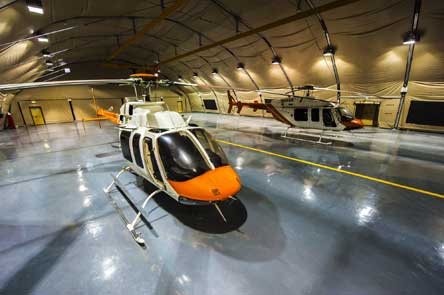 Twitter Feed

Facebook Feed
Rubb Buildings Ltd Serves The Following Areas
Find Rubb Buildings Ltd in