Time and date
CONSTRUCTION DIRECTORY
Speedwell Roofing & Construction Ltd

Contact Details
Address
Hilbre Court
Business Centre
Birkenhead
CH41 3NG
England UK
About Speedwell Roofing & Construction Ltd
Speedwell RC is dedicated to quality and to providing a high level of service. We constantly strive to maintain, monitor and where required, improve our full service.
Speedwell's wealth of experience is unsurpassed and spans over 35 years. Our policy is to proactively 'pre-solve' and identify potential problems early enough to enable us to design, manufacture and install the most suitable solutions.
Speedwell RC is a customer-orientated company, committed to further development and outstanding levels of service.
Our services include:
Roofing
With a wealth of experience, Speedwell RC can provide built-up, composite, standing seam and membrane roofing systems. Constructed with attention to detail and insistence on using only the finest materials translates directly into high-quality roofing installations to your exact specification.
Architectural Cladding
Our cladding panels can be manufactured to suit a vast array of applications, and are available with an extensive choice of mixes, colours and finishes. Our Architectural Cladding Solutions give certainty of quality, cost, and programme.
Speedwell RC cladding means early enclosure of dry envelope is achievable and allows follow-on contractors to commence works sooner. We manufacture our cladding solutions, assuring high quality workmanship, reducing the potential for on-site accidents and skill shortages.
We constantly strive to maintain, monitor and where required, improve the quality and design of our cladding.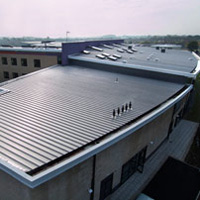 Curtain Walling
With around 35 years' experience, Speedwell RC is one of the UK's market leaders in the design, manufacture and installation of high performance curtain walling solutions. All of our curtain walling products meet and often exceed British and European standards, and deliver enhanced thermal performance.
Windows
Windows and Architectural Glazing. Speedwell RC can manufacture and install several bolted glazed assemblies, from a small entrance to a recessed, faceted screen. We have the in-house expertise to deal with the high technical demands of these products.
To discuss any aspect of our services, please
contact us
.
Speedwell Roofing & Construction Ltd Serves The Following Areas