Time and date
CONSTRUCTION DIRECTORY
Hodkinson Mallinson Ltd

Contact Details
Contact
Timothy Mallinson
Address
1 Derby Place
Chester
Cheshire
CH2 3NP
England
About Hodkinson Mallinson Ltd
Hodkinson Mallinson Ltd
is a building surveying and project management practice providing comprehensive services to private individuals, investors, developers and occupiers of commercial and residential property.
We are committed to the highest level of customer service achieved through our experience, competence and integrity.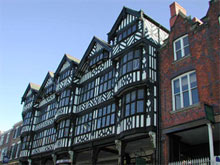 Building Surveys
We undertake pre-acquisition surveys of all types of residential, commercial and retail premises for either investment or occupational purposes. We also instruct other professional specialist consulants when required by our clients.



Architectural Design and Planning
We provide specialist in-house CAD services and are capable of undertaking a wide range of works, from measured surveys of existing buildings through to the preparation of detailed architectural drawings in respect of building refurbishment and new build. We also provide structural engineering design.



Building Conservation
Hodkinson Mallinson are able to provide expert advice in respect of historic buildings and buildings of architectural interest. We are particularly experienced in integrating traditional and contemporary repairs with minimal intervention.



Expert Witness
Hodkinson Mallinson advise clients on a broad range of legal matters including party walls, boundaries and other neighbourly matters, we also act as expert witness in respect of construction matters relating to disputes over contractural issues.



Dilapidations Schedules
We act on behalf of both landlords and tenants with regard to the inspection, service and negotiation of Schedules of Dilapidation.
Specific Defects Analysis
We carry out investigations into the cause of building defects and provide recommendations for remedial work including advice in respect of costs.



Condition Surveys
We carry out thorough condition surveys on all types of buildings which may range from stock condition of housing through to Schedules of Condition of buildings on behalf of ingoing tenants or for Landlords.



Project Management
Hodkinson Mallinson can act as Project Managers for all types of projects, be it new build, refurbishment or repair.



Party Walls
Hodkinson Mallinson act on behalf of Building Owners and Adjoining Owners in all matters connected with the Party Wall Act.



Building Insurance Reinstatement
We provide comprehensive building insurance reinstatement advice on behalf of individuals as well as landlords for all types of property.
Hodkinson Mallinson Ltd Serves The Following Areas
Find Hodkinson Mallinson Ltd in