Time and date
CONSTRUCTION DIRECTORY
Bison IBC

Contact Details
Address
Burma Road,
Blidworth Industrial Park
Blidworth
Notts
NG21 0RT
England UK
About Bison IBC
Metal IBC Containers and Plastic IBC Containers for saleBison IBC Limited
Bison IBC is the UK's leading supplier of metal and plastic IBCs for the paint, ink, chemical and food industries. From our factory in central England we supply users all over the UK and into Europe.
Our customers get great support. Not just supply of new IBCs, but also repairs and refurbishment, cleaning and testing to UN standards.
Bison IBC is a major manufacturer, and with partners throughout Europe we offer an unparalleled range of products for your Intermediate Bulk needs.
Contact us
for further information and to arrange a visit.
IBC Range
Bison IBC offers an unrivalled range of both metal and plastic IBC units. Because we specialise in IBC and we understand our users needs, we have developed a set of products and services to provide a genuine partnership with IBC users.
From traditional, long life metal IBC units that can be maintained, repaired and refurbished, through durable multi-trip plastic IBC and single trip units.
Metal IBC range
Bison is probably the major manufacturer of metal IBCs in the UK, and the only company directly linked to the original Bison AS of Norway, originators of the IBC concept. Long IBC life and innovative designs such as our patented air feed system have helped us to build a reputation for performance and service that others can only admire. Each product below includes a link to a PDF sales data sheet that provides more information, and please contact us to discuss specific requirements.
ST1000
Built to withstand the rigours of the chemical industry, the stainless steel ST1000 meets all the requirements of the Transportation and Storage of Dangerous Goods regulations.
Click here
for more information.
PD1050
Low cost, high performance pressure discharge IBC manufactured from carbon steel. Options include an internal lining, agitation, heating and cooling systems. 2 bar pressure discharge and stackable/bankable.
Click here
to download more information.
BTA Tank Container
General purpose cubic container in a range of volumes from 450 to 1500 litres. Hinged or straining screw lid fittings, with a single piece deep draw hemispherical bottom. Accessories for mixing, cooling or heating are also available.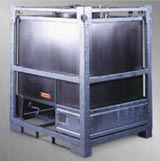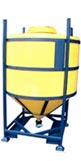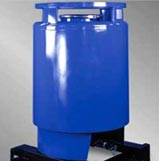 RC Round Container
The full radius corners of the deep drawn, shallow curved base minimises build-up. Add an agitator and the RC becomes a perfect process vessel, the round shape giving great mixing performance. The frame is robust to allow stacking, and is compatible with the BTA frame so that round and cube containers can be stacked together.
BSI Silo Container
Special hopper slopes depending on product guarantee optimum discharge, and the BSI container includes features to suit individual product requirements, such as butterfly valves or slides for dry bulk materials, or a side outlet for liquids.
Plastic IBC
Plastic IBC units
Bison DHA
Robust, versatile, hygienic. The Bison DHA IBC is perfect for multi-trip applications, including hazardous chemicals. The pallet is replaceable and the DHA is available in a variety of colours to refect your corporate identity.
Click here
for more information.
Rikutec GR1000
Manufactured by the leaders in multi-wall plastic IBC, the GR1000 is immensely strong, designed for a lifespan measured in years. With or without bottom valves, hygienic, UN approved and recyclable.
Click here
for more information.
Bison PC range
For customers requiring a cost-effective and robust container for high viscosity liquids or powders. Moulded in one piece from durable MDPE and mounted in a strong frame for fork lift operation and stacking. Variety of discharge methods available to suit the application.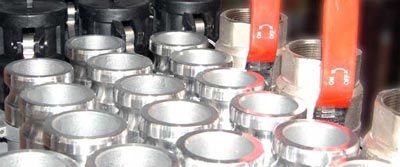 Bison IBC Serves The Following Areas
Bison IBC General Description
intermediate bulk container suppliers stainless steel ibc supplier uk uk bison ibc tote ibc containers for sale intermediate bulk container repair ibc refurbishment ibc bulk cleaning reusable plastic metal tanks storage testing drums custom chemical handling hire