Time and date
CONSTRUCTION DIRECTORY
Gerrymet Ltd

Contact Details
Address
5&6 Maybrook Industrial Est
Maybrook Road, Brownhills
Walsall
West Midlands
WS8 7DG
England
About Gerrymet Ltd
For saw blades and a full range of metal and woodworking tools, take a look online at the reputable tooling supplier online Gerrymet.
You can save money on saw blades such as band saw blades, circular saw blades, knives and irons, and chisels and bits, all of which are used by the tooling professional and also the DIY enthusiast.
The UK-based Gerrymet was established in 1983. Since then the aim has been to offer quality tools for industrial and domestic woodworking/metal use.
From the West Midlands base in the UK, Gerrymet despatch online orders and give an excellent delivery and after-sales service.
Also the Maverick saw blades and tooling, which you can also view online, are a popular option for tooling due to their durability.
Products
T.C.T. Circular Saw Blades
Band Saw blades
Mortise Chisels & Chains
Knives & Irons
Spindle Tooling
Standard Profile Cutters/Limiters
Bespoke Profiling Service
Maverick Products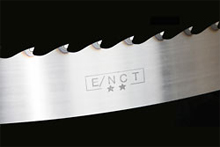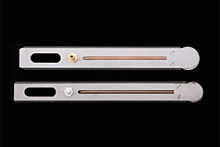 Gerrymet offer bespoke services such as saw blade modifications. And also the team at Gerrymet welcome special orders such as requests for non-standard tooling. Therefore metal and woodworking tools can be modified for your own requirements.
Due to the quality of the saw blades and woodworking tools supplied online, combined with impeccable service, Gerrymet is the tooling professional's choice and the woodworking hobbyist's choice.
So to view the sizes and prices of each individual saw blade and metal and woodworking tool please click the link for Gerrymet online above. Or if you have any questions please call 01543 378 805.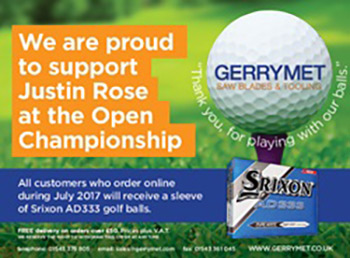 Gallery
Click to close
Videos
News
25/08/2016
HOW CAN MORE BE LESS? – AN INTERESTING QUESTION
---
In industry, and especially in our field of saw sharpening, the above applies to numerous applications but one in particular is the sharpening of Panel Sizing sets.
Below is an example of what we have achieved.
Customer: Furniture manufacturer M.F.C (Melamine Faced Chipboard) material.
Application: Altendorf Panel Saw.
Blade Size: 300 x 96 teeth x 30 bore x 3.2 kerf Main Saw + 120 x 24 teeth x 20 bore x 3.1/4.3 Scorer.
Quantity of sets serviced: Average of 6 sets per week by another sharpening company @ £10.00 per set making a total cost of £60.00 per week
Having had some dialogue with this potential customer, we believed we could offer a more cost effective solution for the sharpening of Panel Saws and so we proceeded to sharpen their existing sets for a period of 6 weeks.
They averaged 4 sets per week @ £12.00 per set making a total cost of £48.00 per week
So there you have it - more can be less. Furthermore, this particular client now needs fewer sets in the system resulting in further savings.
At Gerrymet, we endeavour to give our customers the best and most cost effective tooling solutions. This is achieved by the continued investment in people and technology.
If this is of interest to you, please do not hesitate to contact our sales team on 01543 378805 to discuss your requirements.
13/04/2016
To stellite tip or not to stellite tip?
---
With a large proportion of U.K. saw millers already using stellite tipped wide bandsaw blades, most sawyers / mill operators should, if they have not already done so, be considering the advantages to be gained by using stellite tipped blades.

Stellite is a wear resistant material composed of 60% cobalt, 29% chrome, 10% tungsten & 1% carbon and has a hardness of 47-51 HRC. This compares with a swage set hardness of 41-43 HRC and a tungsten carbide hardness of 67-82 HRC.

From these figures it's clear that stellite has a relatively high hardness factor but isn't as brittle as tungsten carbide. It has traditionally proved to be ideally suited for cutting timbers that rapidly wear down the cutting edges of swage set blades.

The extra durability of stellite enables the blades to be run for longer periods between sharpening, in certain instances 16+ hours have regularly been achieved, although this is very dependent upon the condition of the headrig/machine. Therefore it is necessary for saw millers to experiment and instigate a planned saw blade change/maintenance policy.

Generally, stellite can be run for twice the time of a swage set blade, with the obvious cost savings in downtime and resharpening, although it should be noted that blades need re-tipping every 6-12 sharpenings, dependent upon the maximum/minimum cutting kerf needed to maintain a consistent accuracy of cut.

From research carried out, mainly in the U.S.A., it has been established that a swage set blade can be using 15% more power after 4 hours use, whilst a stellite tipped blade, at the same point, will only use 1.5% more energy than when first mounted after sharpening.

We have noted from our own experience;A stellite tipped blade can be ground/sharpened to higher tolerances. Therefore a stellite tipped blade produces a smoother board finish than that of a swage set blade.The cutting kerf of a stellite tipped blade can, if necessary, be maintained consistently smaller than that of a swage set blade. Therefore less timber is lost to saw dust.
Since the amount of metal removed from the width of the blade, during re-sharpening of a stellite tipped blade, is less than that of a swage set blade fewer new blades need to be purchased per year.

In summary:

- Reduced downtime.
- Reduced energy costs.
- Better quality of cut.
- Increased yield.
- Longer sawblade life.


Stellite is the registered trade mark of the Deloro Stellite Company.
07/04/2016
Tool/Profile Re-Sharpening Service
---
Another service Gerrymet offer to support our manufacturing is the re-sharpening of your tooling products. We offer a regrind service for all profiles, including standard Whitehill cutters and limiters.

We aim to return your re-sharpening products within a week. We generally deliver, if you're within a 50 mile radius of our Walsall UK site, by using our own transport.

Should you have any questions about Gerrymet's re-sharpening service, please refer to our website by visiting the Servicing area of our website or by calling our office on 01543 378805.
31/03/2016
Types/Brand of Cutters
---
At Gerrymet, our most popular profiled cutter and limiter is the Serrated type, which we feel are the most user friendly when using limiters. Once profiled, there is generally no need to sharpen the limiter as the cutters can be moved forward with the serrated pitches in the cutterhead.

The Euro type blanks can be profiled as 'specials'. Generally, we supply standards, nos. 001 to 177, which are our popular items and are all 40mm wide. We also supply nos. 001 to 089 in a 50mm range of cutters and limiters.

Whitehill cutters and limiters are another popuar product that we at Gerrymet produce. We mainly produce 'specials' for these cutterheads and we can sharpen these items but due to the nature of the fixing system/pins, we're required to sharpen the cutter and limiter so they're calibrated to the correct height difference. They are serviced as new.

Although not our most popular choice, solid carbide inserts are another product that we can manufacture. We generally stock blanks to accomodate cutterheads that we have supplied. Gerrymet can also supply all other types including: Oertli, Whitehill, Garniga, Stehle, Leuco, Unimerco, Omas and many more. On receipt of a sample knife, Gerrymet can confirm price and availability.

Multico scribe/tenon cutters are not in as much demand as they once were but we do stock blanks for profiling or for square shoulder tenoning.

Armadillo cutters are the only method of profiling with a pair of HSS CUTTERS ONLY! This system, we believe, is mainly aimed at short run/bespoke profiles. It is becoming a very popular method of moulding and Gerrymet are more than happy to show a demonstration of this system.

Should you require any more information about the services that we offer, then please either consult our website page Bespoke Profiling Service or call the team at Gerrymet on +44 (01543) 378805.
24/03/2016
Coating Technology
---
We, at Gerrymet, are always trying to improve our services and tooling products. One method of doing that has been via coating technology.

We have been involved in the Research & Development of coating particular products (Profile Cutters for example) - which makes our tooling products a lot stronger and more durable.

The use of coating technology has particularly enhanced our H.S.S. (High Speed Steel) products, giving them the characteristics of T.C.T. (Tungsten Carbide Tipped) tools. As a rule of thumb, it costs approximately half the price of T.C.T. and takes half the profiling time.

As a result, Gerrymet's use of coating technology has been very beneficial to some of our customers who use particular applications. The result is that they've LOWERED COSTS.

For any questions about this service, please call us on 01543 378805.
17/03/2016
Cutter Profiling
---
As you may well know, Gerrymet supply tooling products such as saw blades, band saws, circular saws, chisels and bits - basically a wide range of both wood and metal cutting tools that are highly durable and competitively priced.

We also offer manufacturing services such as cutter profiling. Whether it's Serrated, Euro, Whitehill, Multico, or Solid Carbide Blanks, you can read below to find out more about our cutter profiling service or click the webpage here - Bespoke Profiling Service.

We have a large stock holding of all the above blanks and on receipt of a drawing or timber sample Gerrymet will produce an accurate internal CAD drawing which can be sent to the client for approval.

Whether it is profiles or scribe cutters, we ensure that we manufacture these items correctly. One of the main roles of the Gerrymet sales team is to make sure the factory has all the correct information for producing accurate profiles/scribe cutters and limiters where necessary.

We have seen an increase in the demand for profiling and template making for some of the larger sawmills over the last couple of years.

Why? Time is the biggest factor. We have a manufacturing method that involves C.N.C Profiling machines and automatic template making, making Gerrymet competitive and efficient. Another reason is that we generally offer 2/3 days from order to delivery.

If you want more information about Gerrymet's cutter profiling service, please click on the link above or call us on (01543) 378 805.
Twitter Feed

Facebook Feed
Gerrymet Ltd Serves The Following Areas
Gerrymet Ltd General Description
sawblades walsall West Midlands, cutter walsall West Midlands, sawblade walsall, bandsaws walsall,