Time and date
CONSTRUCTION DIRECTORY
Original Windows Ltd

Contact Details
Address
32 Raleigh Road
Enfield
EN2 6UB
England
About Original Windows Ltd
Original Windows is a London based team of period sash window specialists. As experienced in-shop joiners and on-site carpenters we offer a complete range of service that makes full use of the versatility, durability and beauty of wood.
Founded in 1998, Original Windows has worked with more than a thousand clients to achieve more secure, comfortable and elegant homes through attention to their sash windows. Our portfolio illustrates the comprehensive solutions, available through us, for the maintenance, improvement and installation of traditional period sash windows in and around the heart of London.
Meet the Team
Professional team leadership places you, the client, at the centre of every project. Our permanent representative is Simon Matthews, team Building Surveyor and Project Manager.
Accreditations
Original Windows is a forward looking company in constant review of Best Practice Standards. We have maintained accreditation of both the Fenestration Self Assessment Scheme (FENSA) and the British Woodworking Federation (BWF) since 2004.
Our Clients
We have experience working with architects, surveyors, main contractors, landlords and homeowners on projects of all sizes. Our enthusiasm lies in preserving heritage, conserving energy and restoring character to the built environment.
Pricing
Original Windows does not employ sales staff and can therefore reflect the lower costs that arise in competitive pricing.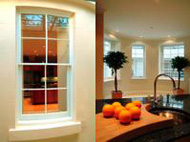 Details of Service
In addition to full replacement our services include alternatives that meet the requirements of Local Authorities for work in Conservation Areas, and Historic England for work to Listed Buildings.
Maintaining the security and good working order of period sash windows with the minimum of alteration.


Improving comfort with discretely positioned draught proofing brush seals and double glazing solutions that save energy and reduce heating costs.


Installing elegant period sash windows to original design in Georgian, Victorian and Edwardian homes.
Sash Window Reassembly
A maintenance service with minimum disruption to decoration that ensures proper operation and safety.
Does your client have sash windows that don't open or close properly? Sash windows are hung on sash cords or balances that support normal operation. These maybe worn, broken or seized but can be changed without major work. We can also remove sashes from their frames, sand back excess paint and carry out adjustments to improve operation. Staff beads and parting beads can also be changed. Routine maintenance such as this ensures good working order and provides opportunity for repairs to decayed timber and the thorough preparation of sliding surfaces that decorators alone are challenged to achieve.
Sash Window Refurbishment
An improvement service with proven modifications to the frame that reduce noise and draught.
Does your client have sash windows that loose too much heat? Sash windows are built with tolerance between sash and frame that allows normal movement. These gaps are often often bigger than necessary but allow the fitting of draught reducing brushes without significant alteration to the fabric to the window. Perimeter seals to rails and parting beads are a cost effective solution for improving the thermal performance of existing windows with significant impact on thermal comfort. Brush seals also reduce noise transmission, dust penetration and prevent rattle, typical of older sash windows.
Sash Window Replacement
An installation service with purpose made joinery to original design that retains period style and character.
Does your client have sash windows that are beyond repair? Sash windows with a lot of timber decay in places that are difficult to reach are coming to the end of their useful life. In these circumstances you maybe looking for the complete replacement of existing windows without the loss of period style and character. If so, our purpose made windows will grace any Georgian, Victorian or Edwardian home and can be built to match any profile. We use a wide range of sustainable softwoods and hardwoods, and both single and double glazed options are available. Our replacement windows are offered with comprehensive guarantee and configured where required to meet current Building Regulations for energy efficiency in the home or workplace.
Go to our Website or Call Now
Our
website
has further details on services. Specifications and drawings are also available. Alternatively, call to discuss your project on 020 8367 7115. All enquiries welcome.
Gallery
Click to close
News
30/06/2016
Victorian Sash Window Restoration in Enfield, London
---
An old house in Enfield Town which had it's sliding sashes removed sometime in the 1980's has been restored. The early Victorian cottage dating from 1859 is now a picturesque part of it's conservation area with the same appeal as when it was first built nearly one hundred and sixty years ago.

Homeowner Ray Simberg knew his house once had sash windows. These had been replaced, though, with heavier looking frames that were unsympathetic to the original design. The heavier frames also restricted ventilation and were beginning to show signs of timber decay. Fortunately, he had been thinking about going back to old style sash windows for several years.

As a former glazier Ray knew a bit about sliding sashes and suspected the old box-frames where still in place. He also knew that keeping the old frames would save a lot of disruption to decoration and reduce cost. He just needed the expertise of a specialist to make sure they where still there and an opinion about their condition. That's when he noticed the Original Windows team working in the area and asked us to take a look.

Retaining the Period Features
During survey we confirmed after some careful uncovering that Ray still had the old frames. Further uncovering revealed the housings that once accommodated the pulley wheels and a groove that served to position the parting bead. We could also confirmed that the frames were serviceable and that we could reproduce new sashes that would fit. In effect we could help restore the original nineteenth century character of his house. With that much clear we had a project that was well within our comfort zone and was able to agree a price to reproduce and fit double glazed sashes to a similar design as the single glazed originals.

Creating the Period Window
We made three pairs of sashes in our workshop. Sashes for the ground floor were fitted with three vertical bars and one horizontal. On the first floor only one vertical bar was needed to form panes of similar size throughout; an important consideration in creating traditional balance and proportion. On site, after fully revealing and cleaning the existing box-frames, new brass wheel pulleys and lead weights with sash cords were fitted. Final adjustments were made to the sashes and the windows assembled with new parting beads and staff beads along with our perimeter draught sealing system.

Improved Thermal Efficiency & No More Draughts
Apart from the obvious visual improvements to Rays cottage our work also made a big difference to the thermal performance of his windows. The depth of the existing box-frames allowed the fitting of replacement sashes with a 16mm space between panes. This, with the use of soft coat low emissivity glass for the internal pane and argon gas, reduced the centre pane U-Value from about 5.5 to 1.1W/m2K. Overall, a massive 80% reduction in heat loss through the glass, and no more draughts.
Products & Services
Timber Repairs
Sash Window Installations
Sash Cord Repairs
Sash Window Improvements
Draught, Noise & Condensation Solutions
Sash Window Maintenance
Team
| | | | |
| --- | --- | --- | --- |
| Name | Role | Email | Telephone |
| Simon Matthews | Managing Director and Team Surveyor | simon@originalwindows.co.uk | 020 8367 7115 |
| Shane Montgomery | Joiner-in-Charge | | |
| Gary Gibson | Carpenter-in-Charge | | |
| Bernadette Devoy | Secretary | | |
Original Windows Ltd Serves The Following Areas
Original Windows Ltd General Description
timber sash windows restoration wooden sash window preservation north london timber sash window preservation in north london traditional timber sash window london handcrafted sash windows enfield draught proofing sash windows what is the thermal efficiency of sash windows