Time and date
CONSTRUCTION DIRECTORY
Harlech Hygienics Ltd

Contact Details
Address
Ty Gwyn
Wyndham Street
Tonypandy
CF40 1EP
Wales
About Harlech Hygienics Ltd
Harlech Hygienics design systems is focused around the cold storage and food processing sector. We have established ourselves as leaders in the field of hygienic construction, mainly due to our procurement and servicing of a top quality range of panelling and advanced door systems. Our cost effective construction methods are now used in practically every industrial situation. With our Network of experts Harlech can offer a Project Management Service to assist in the design, procurement, installation and commissioning of all equipment and infrastructures required to operate a food manufacturing facility, Including factory start up and development of existing facilities.
Harlech offer
Modular Coldrooms
Internal Fire Partitioning
External Composite Panels
Personnel & Insulated Doors
PVC Doors, Curtains and Windows
PVC Decorative Panels
Hygienic Cladding Panels
View our Services:

Decopan panels provide a complete finish, the cladding system is quick and easy to install and is a cost effective attractive alternative to tiles. Decopan is ideal for problem areas where poor wall surface prevent the fixing of cladding directly to existing substrates. Ideal for Kitchens, Bathrooms, Changing/shower facilities or anywhere you require a wipe clean, washable hygienic surface.

Ideal for...


Problem Areas, Kitchens and Bathrooms
Changing rooms or anywhere a wipe-clean, washable and hygienic surface is required
Modular Coldrooms
Harlech has a wide range of experience in the supply and installation of modular coldrooms which has seen installation's on many retail sites as well as your local café, hotel and public houses. Coldrooms can be made to measure to suit individual needs. Giving you complete satisfaction and maintaining our standard for providing a fast, efficient and friendly service.

Composite Panels
Either, PIR cored for excellent thermal properties for use in temperature controlled areas, or mineral wool cored for compartmental walling or for those areas deemed high risk such as:- escape corridors and cooking areas. The panels are designed for ease of installation with an interlocking joint, facilitating excellent vapour sealing, panels can be easily reused.

External Composite Panels
Modern design, demands not only ingenuity of design and pleasing aesthetics, but also superior product integrity, increased construction speed, low maintenance costs and extended life performance. Harlech offer a wide range of composite panels.
Fire Composite Panels (MWRF)
Mineral Wool composite panels provide a significant contribution towards improved fire safety. Under incoming European classifications for construction products it is expected that sandwich panels containing a mineral wool core, bonded to metal faces are likely to achieve a Classification of A2. Ideal for:-

• Compartmentalisation.
• Walling, Staircases.
• Enclosures & Fire Escape Corridors.

The panels can be fitted with fire rated door-sets and windows. Quick and clean to erect, without the messy 'wet trades' associated with some other systems. Mineral Wool Panels achieve a 30mins - 2 hour fire rating depending on the thickness of the panel.
Personnel and Insulated Doors
• Hinged Chill and Freezer Doors
• Sliding Doors
• Amenities Doors

PVC Doors, Curtains and Windows
• Polycarbonate Flip Flap Doors
• Vision Panels PVC
• Strip Curtains
100% Recyclable DecoKERB now exclusively produced by Harlech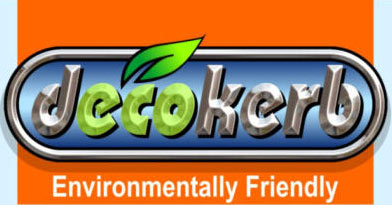 Harlech Hygienics Ltd Serves The Following Areas