Time and date
CONSTRUCTION DIRECTORY
Address
Building 101 The Waterfront
Stonehouse Business Park, Sperry Way
Stonehouse
Gloucestershire
GL10 3UT
England
About PPE Ltd
Progressive Precast Erection Ltd is the industry specialist for the erection of Precast Concrete materials and the laying of structural screeds.
PPE specialise in the erection of multi-storey precast building construction, including hotels, apartments, military accommodation, student accommodation and offices enabling PPE to offer a fast professional service to Contractors.
PPE will work with the contractor and design team, as necessary, to develop the most cost effective solution to the Project Programme and Design requirements.
From the installation of simple precast planks and stairs, through Cross-Wall and Twin-Wall erection, placing bathroom pods to laying Structural screeds, the PPE team will be able to provide an efficient solution.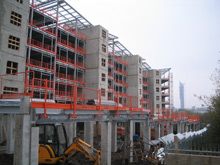 Trained Operatives
All PPE operatives and staff are fully trained in their particular skills area. Everyone at PPE has an appropriate CSCS / CPCS card and is trained in the relevant Health and Safety issues to ensure that all work is carried out professionally and with full regard for all safety matters in the work area. So whether it be a banksman or an appointed person, for example, you can be assured that PPE have provided up to date training and assessment to ensure that safety and skills are paramount. PPE runs an NVQ training scheme under which all operatives are assessed.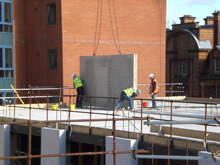 PPE Services
PPE offers a wide range of services within the precast erection marketplace
Services Include:
Structural Screeding
Precast Panel Erection
Twin-Wall Erection
Cross-Wall Erection
Precast Facade Panel Fixing
Precast Slab Laying
Basement Construction
Composite Flooring
Pod Placement
PPE work in all sectors of the market including:
Hotels
Apartments
Commercial Buildings
Sports Stadium
Health
Schools
Residential
PPE will work as an integral member of your team, working to design out potential problems prior to commencing operations on site, and working with the Site Management team to ensure all operations are carried out with full empathy for other site operations.
If the project is utilising pre-manufactured pods, then PPE will be happy to add the task of placing them as an additional item to the Contract package, to ensure continuity of operations and maintain safety standards.
PPE Ltd Serves The Following Areas