Time and date
CONSTRUCTION DIRECTORY
Roll-A-Ramp (Europe) Ltd

Contact Details
Address
Unit 4, Bittacy Business Centre
Bittacy Hill
NW7 1BA
England
About Roll-A-Ramp (Europe) Ltd
Roll-a-Ramp is the ultimate portable ramp system which has totally revolutionised the disability access and the wheelchair ramp market. Its unique simplicity and load-bearing strength allows it to adapt to countless ramp access applications.
Roll-a-Ramp is an incredibly strong and lightweight ramp which is very simple to use, store and transport.
The Roll-a-Ramp system is designed to provide easy disability access into buildings such as private homes, schools, shops, and hotels etc. Simply unroll and position for instant use. When not required, simply roll-up and store.
Roll-a-Ramp is also the perfect choice for industrial ramps and scooter ramps. There are many different wheelchair ramps on the market but the Disability Access Industry has agreed that there is no other system of wheelchair ramps as flexible and adaptable for wheelchair and scooter access as Roll-a-Ramp. Whilst all other wheelchair ramps are of a static size, only Roll-a-Ramps can be shortened or lengthened to fit different disability applications.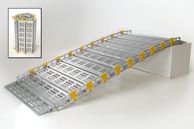 When you buy a fixed length ramp, the usability of that ramp is totally governed by the size and height, of the steps. For example, if you buy a 6ft disabled ramp, it can only be used for that one application. However, if you take your ramp to friends or on holiday and you find you actually need an 8ft long ramp, Roll-a-Ramps can be lengthened by simply purchasing a spare few treads that can be left in the car.
Sue Carnell wrote to us to say "...we always take the ramp with us in the car so that it's there for any eventuality. It has made life so much easier for us. You don't realise how great it is until you've tried Roll-a-Ramp."
We were delighted when Buckingham Palace chose Roll-a-Ramp over any other wheelchair ramp system. Indeed, it is not only used at Buckingham Palace but at all of the other Royal Residences when needed due to the total adaptability of the Roll-a-Ramp system.
| | |
| --- | --- |
| Wheelchair Ramps | Industrial Ramps |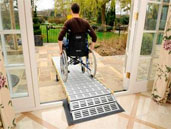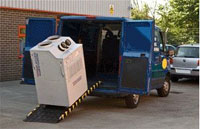 Roll-a-Ramp Features
Simple to use
Supports up to a Ton
Available in any length

Ideal for wheelchairs
Delivered next day
Guaranteed for 10 years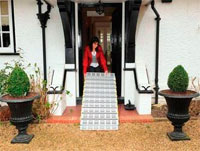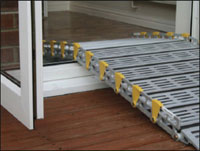 Contact us on
020 8346 4477
or visit our website for more information.
Roll-A-Ramp (Europe) Ltd Serves The Following Areas
Find Roll-A-Ramp (Europe) Ltd in