We cover all areas along the North Wales Coast from Rhyl, Colwyn bay, llandudno, Prestatyn, and all surrounding areas.
Fencing has to cope with the worst of elements. If you buy cheap, poor quality wood, what initially seems a bargain turns out to be a very expensive mistake when it needs to be replaced in six months.
The panel and gravel board simply slots into the concrete post for long time installation, with no need for nails.
The added benefit of concrete is that it is strong and will not rot, therefore will last for many years and easy maintenance.
Once you've decided to put your landscaping or garden design project into our capable hands, you'll wonder how you ever managed without us! We'll work with you through every project phase from pre-planning to after-care. And at every stage, we'll never lose sight of your individual wishes and requirements.
Examine our expertly creative way of working: you'll be delighted!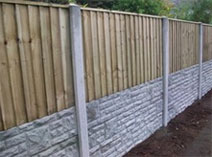 Fencing Services
Fencing Services provides professional support for every phase of your project. We take care of everything, from providing advice at the outset to providing support after completion.
Choose from a variety of options, ranging from a full planning service to individual advice, from the practical integration of existing elements to a complete redesign. Our work is always of the very highest standard - original ideas included!
Gardens but also entertainment areas for all the family. From simple sunbathing to barbeques and most of all security for your home and garden.
Make the most of your garden by choosing the very best in fencing products.
Our direct supply and fitting service allied to the very best products will enhance your garden and add that important touch.
For a no obligation free estimate contact us and our surveyor will call and fully discuss your requirements and ensure value for your money.

Tree Services
We undertake all aspects of tree services work for both the residential and commercial sectors. Our services include felling and removal, natural looking pruning, tree planting, stump grinding and expert advice.
Tree Removal – Complete tree removal to ground level
Stump Grinding – Removal of the stump 12-18inches below ground level
Crown reduction – Reduction of the overall size and shape of the tree
Crown thinning – Reduction of the branch volume, reducing crown density to increase sunlight
Crown lifting – Removing lower branches to raise the canopy
Dead wooding – Removal of major deadwood
Formative pruning – Pruning young trees to encourage good form and structure
Hedge cutting - Reducing, trimming or removing hedges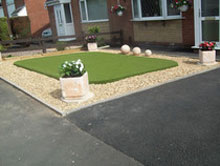 Low Maintenance Gardens
There are a myriad of hard landscaping materials that can be used to construct paving and patios. Which type to use will depend upon the design of your garden and available budget.
Paving slabs of various finishes and colours, natural stone paving, block paving, cobbles, shingle, gravel and slate are just a small selection of the available materials.
Garden and Landscape Design
With our many years of experience and our eye for detail, we develop creative solutions in garden and landscape design. Working with you, we design your new living environment, tailoring it to fit your exact specifications.
Decking and terracing
Pergolas, water features and garden furniture
Turfing, seeding and planting