Time and date
CONSTRUCTION DIRECTORY
Containers Sales NI Contact Details
About Containers Sales NI

Container Sales NI
are one of the largest suppliers of storage containers in Ireland with depots in Belfast, Dublin and Omagh.
Container Sales NI was established in 2002 and have since delivered to many satisfied customers over the 32 counties.
Personal Storage
Personal containers solve a multitude of needs around the house and garden:
* Replace your shabby shed
* Extra secure storage
* Keep your garden tidy: Patio furniture, tools, kids toys etc..
* Safe motorcycle/bicycle lockup
* Work shop area
* And lots more..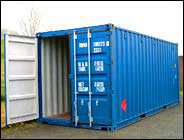 Commercial Storage
Commercial Containers come in both 20ft and 40ft and are provided direct from the shipping lines after the expiry of their leasing agreement. These containers are all Cargo Worthy and completely water tight. They can also be supplied insulated for the protection of 'Dry Goods'
Our rental division can offer these containers on a short or long term basis.
Shipping containers are also available new, delivered direct from the manufacturer. These are ideal when good presentation near a shop or factory is important. Both sizes are available in a multitude of colours to suit your needs.


Commercial Storage
20ft Steel Container
* Secure storage
* Great for temporary and emergency demand
* Durable enough for long term storage needs
* Available new and second-hand




40ft Steel Container
* All the advantages of the 20ft Container but double the size!
* A cost effective way of adding additional stock rooms
* Great for storage and work spaces when working offsite


Location
Containers Sales NI Serves The Following Areas
Find Containers Sales NI in