Time and date
CONSTRUCTION DIRECTORY
Graepel Perforators & Weavers Limited

Contact Details
Address
Barrack Green
Kinsale
Co Cork
P17 FE80
Ireland
About Graepel Perforators & Weavers Limited
Graepel Perforators and Weavers Ltd
Graepel Perforators and Weavers Ltd has been supplying perforated metal and woven wire products to the market for over 50 years. Throughout the past two years Graepel has invested substantial money in the company to secure its place within the industry. Investments have been made in new software, new perforating and fabricating equipment. These new additions to the company enhance Graepel's ability to produce more complex products, more efficiently.
The new software includes new computer systems to improve customer service and new 3D design software to allow Graepel to work with customers to develop product drawings and solutions. On the floor, investments in new perforating and fabrication equipment increases Graepel's ability to produce more complex products. Their new state-of-the-art levelling equipment allows them to flatten the more difficult specifications, which traditionally would have been a challenge. Graepel can perforate sheets up to 2m wide and 4m long from 0.5mm to 25mm thick in a variety of materials.
Graepels perforate a wide range of round, square, slotted, decorative and unusual shaped holes on special requests. Graepels also manufacture a range of woven meshes and industrial flooring for a range of industries.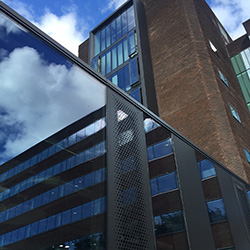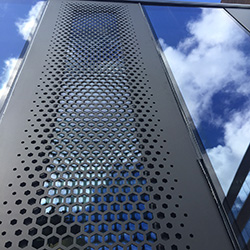 Graepel's core products have a variety of uses including balustrades, balconies, cladding and ceiling tiles. The possibilities are endless and provide a contemporary finish to any design.
Graepels specialise in fabricating bespoke perforations a wide variety of patterns and images can be punched into metal sheets. The end result is a highly innovative product that has a limitless amount of uses, such as cladding, decorative paneling,exhibition stands, ceiling tiles, ventilation grilles etc.
Graepels Picture Perf product takes the pixels of the picture or vector image and perforates them using a series of different perforation sizes, which when perforated displays an image of the picture. The possibilities are endless. The end result is a unique perforated product that looks great and works well with lighting.
Graepels maintain a culture of innovation and has always worked closely with customers to meet their requirements providing value and expertise to get the job done.
Graepel also supplies welded mesh, woven wire mesh, balustrade infill, ceiling tiles, handrails, profiled edging, steel flooring, and staircases etc.
Contact Graepels;
Cork +353 (0) 21 4772105 or email info@graepels.com
Dublin +353 (0) 1 450 9955
Belfast +44 (0) 28 90484800
Warrington UK +44 (0) 1925 229809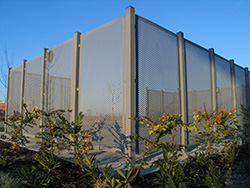 Our Products
Perforated Metal
Graepel Perforated Metal is known for its exceptional quality and durability. We make it exactly to your specifications.
Picture Perf
Using different hole sizes, Picture Perf allows us to perforated detailed images into sheet metal. It allows us to blend artistic vision with any other, tangible requirements of the metal such as safety or security.
Rubber & Polyurethane Screens
Rubber & Polyurethane Screens are used for filtering materials not suitable for metal screens.
Safedeck Anti-Slip Flooring
Safedeck Anti-Slip Flooring is a secure and safe choice where extra grip is necessary. There are eighteen different types; modified to suit an array of applications including industrial areas, public gardens and marine walkways (with extra drainage).
Screening
Graepel provide a range of trommels screens for the quarrying and recycling industries. High tensile and stainless steel mesh trommels and perforated screen plate are all available.
Woven Mesh
High Tensile Woven Wire Mesh is made in many sizes and patterns. Different meshes can be created by including or omitting wires in both directions and changing the crimp patterns of the wire.
Gallery
Click to close
Videos
News
20/01/2017
ARCHITECTURAL APPLICATION OF WOVEN WIRE MESH AND PERFORATED METAL
---
STAINLESS STEEL WIRE MESH APPLICATION Booterstown is a coastal town, situated close to Dun Laoghaire, about 7 km south of Dublin City. Graepels Straight Wire Mesh and Perforated Metal are used throughout Booterstown Dart Station which boasts some stunning views out onto the Harbour. Graepel Mesh The architectural application of wire mesh in public spaces such as the Dart Stations, pedestrian bridge are advantageous, because of the high visibility through the mesh. The open area means the clear visibility hinders people from loitering on the bridge thereby increasing security and deterring vandals. The aesthetic advantages is its ability to maximize the views while fulfilling its functional purpose of creating a durable, secure pedestrian bridge. Both ends of the bridge the view are framed geometrically by the hexagonal framework of the bridge, while the glass balustrade allows views of the Irish Sea to remain unobstructed Woven Wire Mesh graepels The Wire Mesh Panels were manufactured in 3 mm thick stainless steel 316 quality. The Mesh panels were supplied in sections, each box section was then bolted onto the hexagonal steel frame of the bridge. At one end the panels were folded around a steel frame and welded with staggered tensioning bolts at regular intervals. The other end of the panels were folded for rigidity at the point where the panels joined. Graepels straight wire mesh Due to the span of each panel in relation to the thickness of the wire the panels could potentially flex. The solution to this was to create a bolt system, for each box section to secure them onto the hexagonal stainless steel frame. Once the wire mesh panels were bolted into place, the entire frame increased in strength and durability. The bright annealed wire, creates a 'shiny' finish which means the wire is self cleaning, however, due to the local climate the panels need maintenance, albeit minimum maintenance, to ensure the wires do not stain. Architectural Mesh STAINLESS STEEL PERFORATED SHEETS – APPLICATION Booterstown Dart station combines a variety of 'metal styles' such as Wire Mesh, Perforated Metal and Welded Mesh. Perforated Metal is used throughout the station, in Balustrade infill, each Perforated Stainless steel sheet is clamped behind a flat strip of stainless steel and secured in place. Perforated Stainless Steel Balustrade Infill Perforated Metal has many advantageous qualities, particularly in public spaces, due its strength and durability. Perforations also act as an excellent wind and weather barrier while remaining aesthetically pleasing, particularity when lit up at night as the light disperses through the perforations. For more information on Perforated Balustrade infill click here. Stainless steel Perforated Mesh For more information on Straight Wire Mesh or any other products contact info@graepels.com or sales@graepels.com alternatively check out our Woven Wire Mesh product section on our w
Products & Services
Graepel
Perforated metal
Wovan wire mesh
Twitter Feed

Facebook Feed
Location
Graepel Perforators & Weavers Limited Serves The Following Areas
Graepel Perforators & Weavers Limited General Description
picture perf perforated,,safedeck,flooring,balustrades,safety grilles,decorative panels,punchings,ballast,industrial ladders,screens,quarry screens,machine guards,ladder rungs,filters
Graepel Perforators & Weavers Limited Branches