Time and date
CONSTRUCTION DIRECTORY
South Survey Ltd Contact Details
Address
21 Deanfield Court,
Clitheroe,
Lancashire,
England UK,
BB7 1QS
About South Survey Ltd
About us:
South Survey Limited established in 2002 by Surveyors with many years of experience on site, since then we have included in our extensive stock equipment for any aspect of the building industry. We sell all the equipment you need at very competitive prices.
Irish customers please supply vat registration number for vat free sales.How to order:
You can place an order instantly on-line or call our sales team with choice of payment by cheque or via secure card transaction. Next working day UK delivery is available subject to stock.
Our products:
Explore our website
www.surveyorsequipment.co.uk
to view a wide selection from our current equipment range together with the latest prices and technical specifications (where available).
We sell Leica, Topcon, Sokkia, Tramex, Protimeter, Theis, Stabila, Giant, South, Silva, Fisco, RS, Freigburger, Avonguard, Ridgid, PACT, EziCat, Garmin, A.M.P.E.R.E, Trumeter, GANN, Graebert, EziDigPro, QBL, Laserliner, Nedo, Samsung, JETT, n4ce, NRG, Elcometer, Chartwell, Draeger, Crowcon
CAD, Disto's, Moisture Meters, Atmospheric Meters, Thermometers, Environment Meters, Test Equipment, Tapes, Torches, Marking, Measuring, Instruments, Tools, Safety and Personal Protective Equipment Accessories, Total Stations, Theodolites, Laser Levels, Dumpy Levels, Optical Levels, Glass Meters, Crack Monitoring, Prisms, Light Meters, Humidity Meters, Sound Meters, Compasses, GPS, Profile Boards, Ranging Poles, Paint, Pens, Wipes, Adhesive, Machine Control, Man Hole Keys and Lifters, Digital Angle Finders, torches, signs, headlamps, Surveying books, Stud finders, Ladders, Building Line, Meter Box Keys, Plumb bob, Hammers, Spirit Levels, Tripods, Staffs, Grade Lasers, laser measures, Cross Beam Lasers, Borescopes, Thermo graphic Cameras, Hydraulic Manhole Lifters, First Aid Kits, Handheld Computers, Binoculars, Inspection Mirrors, Laser Detectors and Accessories, Measuring Wheels, Marking Plates, Gas Detection, Cable Detection, Sonde, Laser Gauge, Toughened Glass Indicated, Low E Gauge, machine control.
We offer survey packages including software that allows sites and buildings to be measured and drawn quickly and accurately.
Survey Marker plates for fixed datum points on-site, creating useful benchmarks for everybody to work to for Quality Assurance.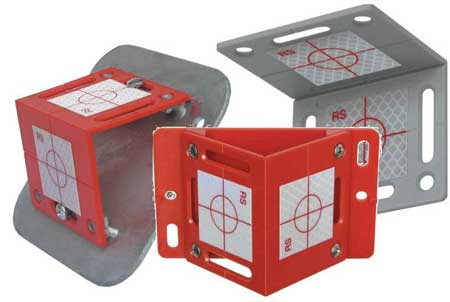 We are suppliers of THE RE-USABLE CROSS-BONE PROFILE SYSTEM
Environmentally friendly - made from recycled, long-life, nylon-reinforced plastic.
Improves resource efficiency - no more rummaging through the skip to find the right sized piece of wood.
Significantly reduces labour and materials costs.
Clearly seen by the user and plant operatives.
Ready to be re-used across your site and the next one when needed.
Reduces purchase and waste clearance costs.
Our range has been developed by a number of surveyors, with years of experience on site, to bring you a range of the best equipment from many sources. If we do not have listed what you are looking for please contact us using any of the contact details provided and we will endeavour to source it for you.
Our aims:
To find you the right tool for the job if we haven't got it we will find it.
Not give you the "hard sell" no pushy sales techniques.
If you find one of our products cheaper elsewhere we will be more than happy to match it.
To provide quality products at the most competitive prices.
We will not sell you something for the sake of a sale (If the cheaper product is what you need that is what we will advise you)
We continue to develop and improve our products constantly
If you ordered the wrong thing, you can return the goods in a resalable condition and we will refund you.
All our equipment comes with a warranty
Delivery:
Next working day UK delivery is available. We can deliver worldwide - please contact us with your requirements and we will endeavour to find a solution. National next working day delivery subject to stock.
Location
South Survey Ltd Serves The Following Areas
South Survey Ltd Branches
South Survey Ltd
21 Deanfield Court, Clitheroe, BB7 1QS
Click to view telephone number
South Survey Ltd
21 Deanfield Court, Clitheroe, Lancashire, BB7 1QS
Click to view telephone number